Deputy Chief David D. Wilske of the Hastings Police Department was approved by the Hastings City Council as the city's next police chief, following Chief Bryan Schafer's retirement at the end of this month. The council approved a recommendation from City Administrator Dan Wietecha at its Monday, May 2,  meeting. Wilske and current Police Commander Bryan Schowalter participated in the selection process. 
Wilske has been with the city's police department for five years and was selected through a rigorous internal hiring process. He began his duties with the Hastings Police Department in May of 2017, following a 20 year career with the University of Minnesota Police Department. He holds a bachelor of science degree in physical education and sociology with a criminal justice emphasis.
"Throughout a series of interviews, Deputy Chief Wilske impressed us with his uplifting leadership style, deep engagement in our community, and strategic and forward-looking mindset," said Wietecha.
Since joining the Hastings Police Department, Wilske has led department training and development, fleet management, emergency management and supervised the investigative and evidence room operations. He has been instrumental in forming partnerships with key community leaders and groups, including IDEA: Inclusion, Diversity and Equity Alliance in Hastings. Most recently, the partnership between the Hastings Police and IDEA received statewide recognition from city peers.
Schafer said, "Wilske brings compassion, vision and energy to the organization. He is a strong leader and extremely capable of leading the HPD and fulfilling the expectations of our community. We have worked hard on succession planning and I could not be happier about this recommendation."
"Throughout my tenure, we remained committed to hiring and promoting only the best," Schafer added. "This was done with purpose and vision, ensuring we have a solid succession plan that will take HPD well into the future.  I'm confident we have succeeded in that endeavor by preparing and aligning the right people to assume command upon my departure."
Wilske said he is very excited for the opportunity to serve as the Hastings Police Department's next chief of police.  "I have always been impressed with the professionalism of the men and women that work for the Hastings PD, and the community support for the Police Department has always been impressive and greatly appreciated, Wilske said.  "It has been an honor working and learning from Chief Schafer. I wish him the best in his well-deserved retirement and will continue the tradition of holding the Police Department to the highest standard."
The hiring process included interview panels with representatives from Dakota County Social Services, 360 Communities, IDEA, Ally Supportive, and Hastings Ministerial, as well as the Public Safety Committee of the City Council, Public Safety Advisory Commission, Hastings Police Department, Dakota County Sheriff's Office, and City Department directors.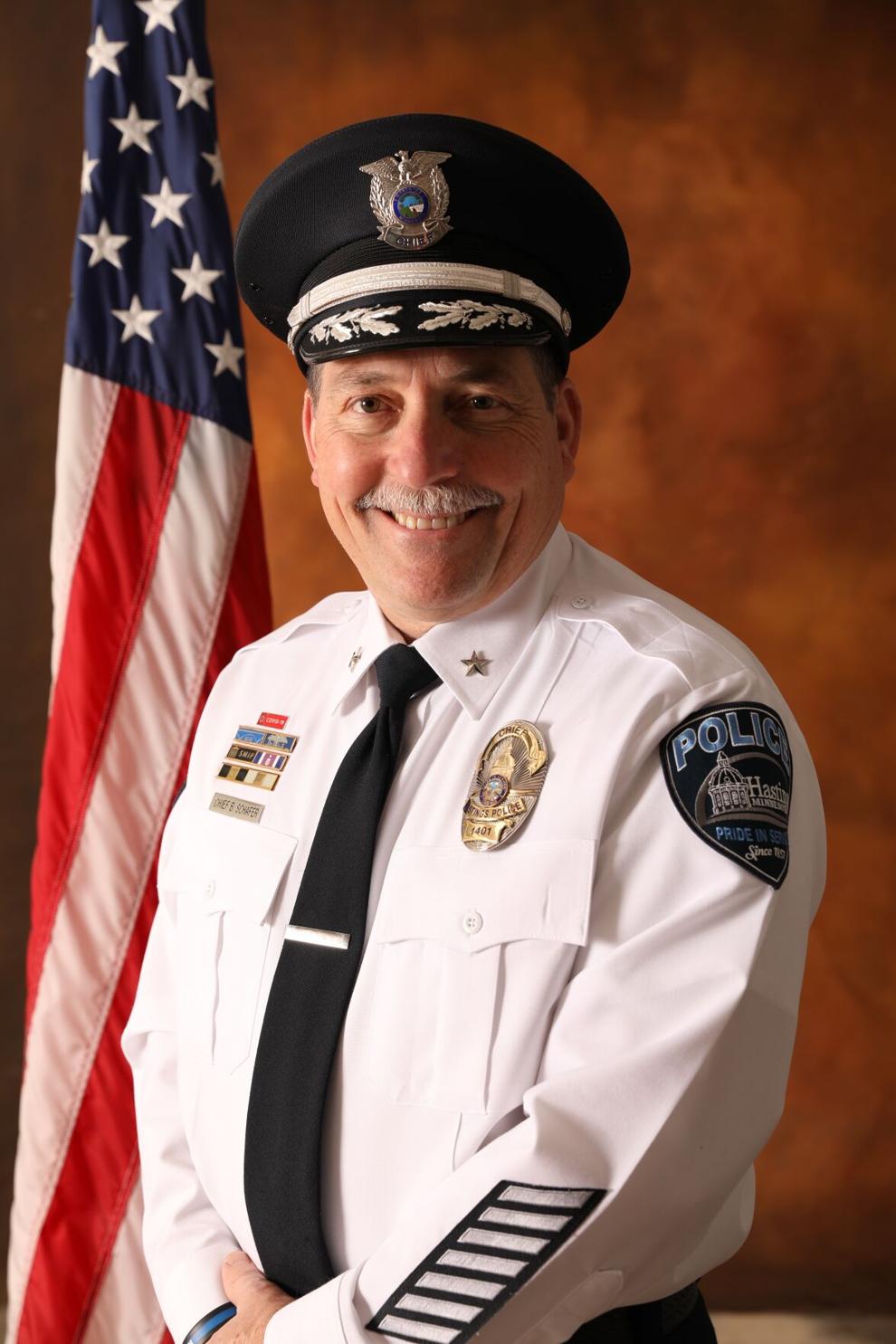 "These partners brought vital perspective on key trends and emerging issues in law enforcement," said Wietecha.
Wietecha expects additional promotions from within the department in the coming weeks, as Wilske assumes his new chief duties.
Last December, Schafer announced his retirement as the 55th police chief to lead the Hastings Police Department during its 165 year history. During his tenure he has deepened the department's engagement with the community, hired or promoted 75% of the department, and implemented structural changes that have led to greater professionalism, autonomy and accountability among the 36 staff and Police Reserve Unit.
Wietecha said Schafer set the bar high for him and his department in a number of areas, and his leadership will be missed. "Chief Schafer has made a huge impact on this community through his strong leadership, community engagement and departmental impact externally and internally. He's worked closely with our Mayor and City Council leaders and with law enforcement organizations in Dakota County and across the state to collaborate on implementing safety protocols and solving crimes."
Schafer said, "After nearly 39 years as a police officer, it's time start a new chapter. Serving as Hastings Police Chief has been the most humbling experience of my career. I want to thank the community for their support, and express my gratitude to the HPD staff for allowing me the honor to serve with them."
Schafer said retirement will include a mix of travel, projects, hobbies and professional work. "I plan to do some consulting and to continue to serve on my local school board," he said.