The Hastings Raiders girls' tennis team is young with just a few seniors in the varsity lineup, but don't tell them that and certainly don't expect them to play like it. The Raiders are 7-3 on the season and have won six-straight matches dating back to September 9. 
Hastings graduated 15 seniors in the spring of 2020 -- six of whom played in the varsity lineup -- and have had two eighth-graders (Reese and Brooklyn Keller) plus a sophomore (Ruby Rotty) crack the varsity rotation. Despite low numbers in general for the program this fall, 27 girls total split with 12 on varsity and 13 on JV, Welch said she has had more flexibility in planning practices and providing personal training.
"Because of low numbers, we've been able to practice all together, and I've been very intentional (as in year's past) with my practice plans," she said. "But more manageable numbers means we can do more as coaches - we can spread the girls out and feed to them or small-group them. We are not trying to come up with drills and games that suit 12-16 girls per court."
Heading into the season, Welch said their goals are similar to other seasons.
"A team goal that we consistently have and strive for each year is team unity," she said. "We want the girls to support and encourage each other on the team. We want it to be a positive atmosphere for all around. My personal coaching goal is to have each girl know exactly how they improved this season. To notice their improvement and to applaud their improvement!" 
Early season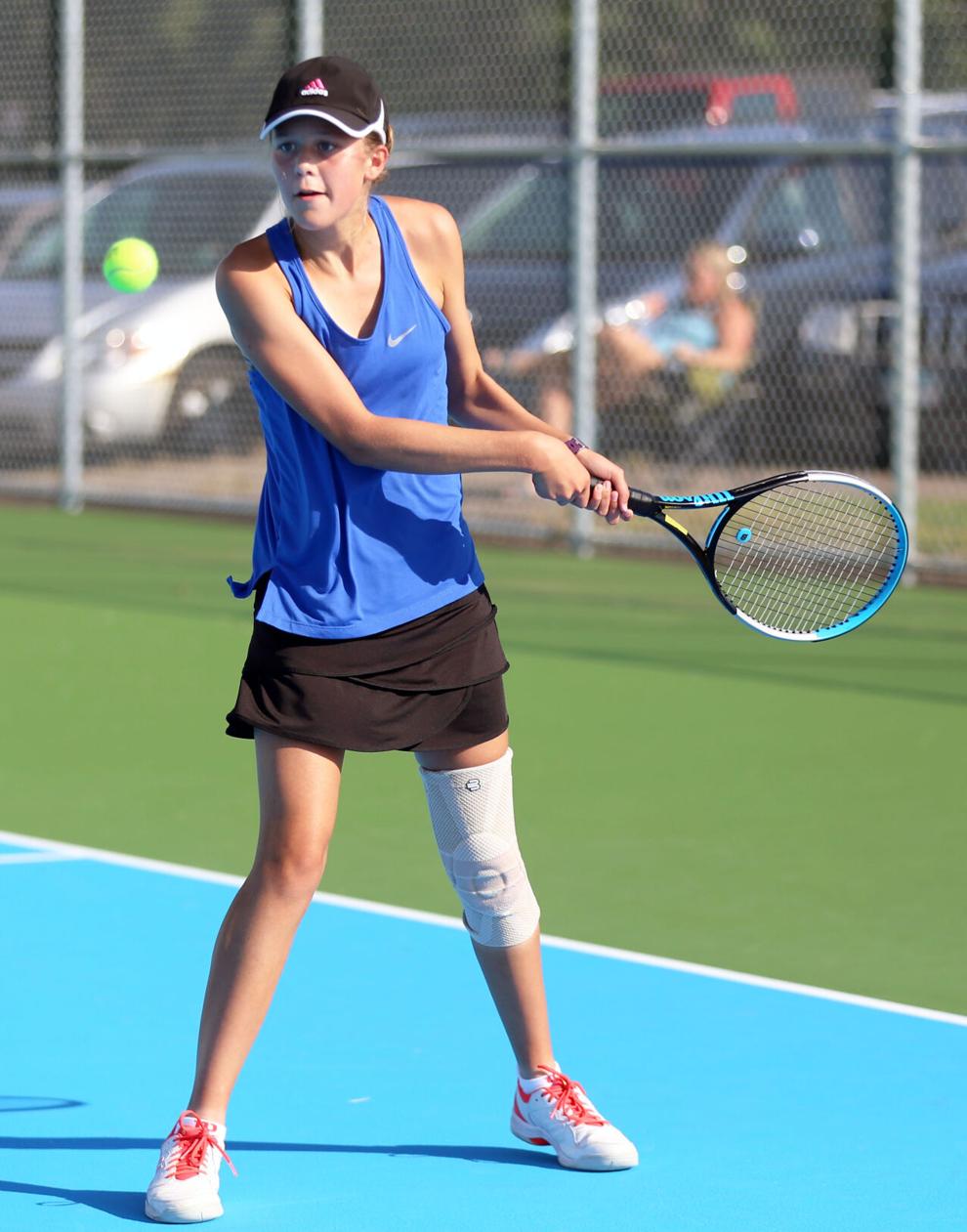 The Raiders started their season off slowly, going 1-3 in their first four matches with the lone win being the season and home opener against Northfield. They beat the "other" Raiders 5-2 on August 20 before dropping three straight close matches against Burnsville (4-3 on August 24), Rochester Century (4-3 on August 31) and Eastview (4-3 on September 8). However, over the past week Hastings has won six in a row including two blowouts and a sweep at a triangular in Park. 
Hastings went to Two Rivers (formerly Henry Sibley) last Thursday, Sept. 9, and swept the Warriors 7-0. Sophomore Claire Keller, senior Charlotte Kranz, junior Autumn Winkler and Brooklyn Keller won their singles matches as did the doubles teams of senior Molly Moran/Reese Keller, seniors Ellie Haas/Chloe Konrady and sophomores Ruby Rotty/Mikayla Schuster. 
The next day the Raiders beat the Rosemount Irish 5-2. Claire Keller won No. 1 singles 6-0, 6-1; Reese Keller took No. 2 singles 6-2, 7-6; Konrady fell in No. 3 singles 6-2, 7-6 and sophomore Brooke Jelley lost at No. 4 singles 6-1, 6-1. In doubles, Kranz/Moran won the No. 1 matchup 4-6, 6-4, 6-2; Winkler/Haas won No. 2 doubles 4-6, 6-2, 6-2 and Brooklyn Keller/Schuster took No. 3 doubles 6-2, 6-0.
Park Triangular
Hastings played two matches in a triangular at Park last Saturday and won both with 4-3 victory over Visitation and 5-2 win over Highway 61 rival Park. Against Visitation, Claire Keller won No. 1 singles 6-1, 6-0 while Kranz fell at No. 2 singles 6-4, 6-2. Brooklyn Keller won at No. 3 singles 7-6, 1-6, 10-7 but Ruby Rotty lost in No. 4 singles 6-4, 6-0. The team of Moran/Reese Keller won No. 1 doubles 6-2, 6-1; at No. 2 doubles Winkler/Konrady won 6-0, 6-2 and Haas/Jelley lost No. 3 doubles 6-7, 6-2, 11-9.
Then against the Wolfpack, Reese Keller won No. 1 singles 6-0, 6-1 and Autumn Winkler took No. 4 singles 6-4, 6-0. Brooklyn Keller lost No. 2 singles in a close match 7-5, 7-5 while Moran fell at No. 3 singles 6-0, 6-3. Hastings then swept all three doubles matches. Claire Keller/Kranz won No. 1 doubles 6-3, 6-2; Konrady/Haas took No. 2 doubles 6-2, 7-5 and Ruby Rotty/Schuster were victorious in No. 3 doubles 7-5, 3-6, 10-7.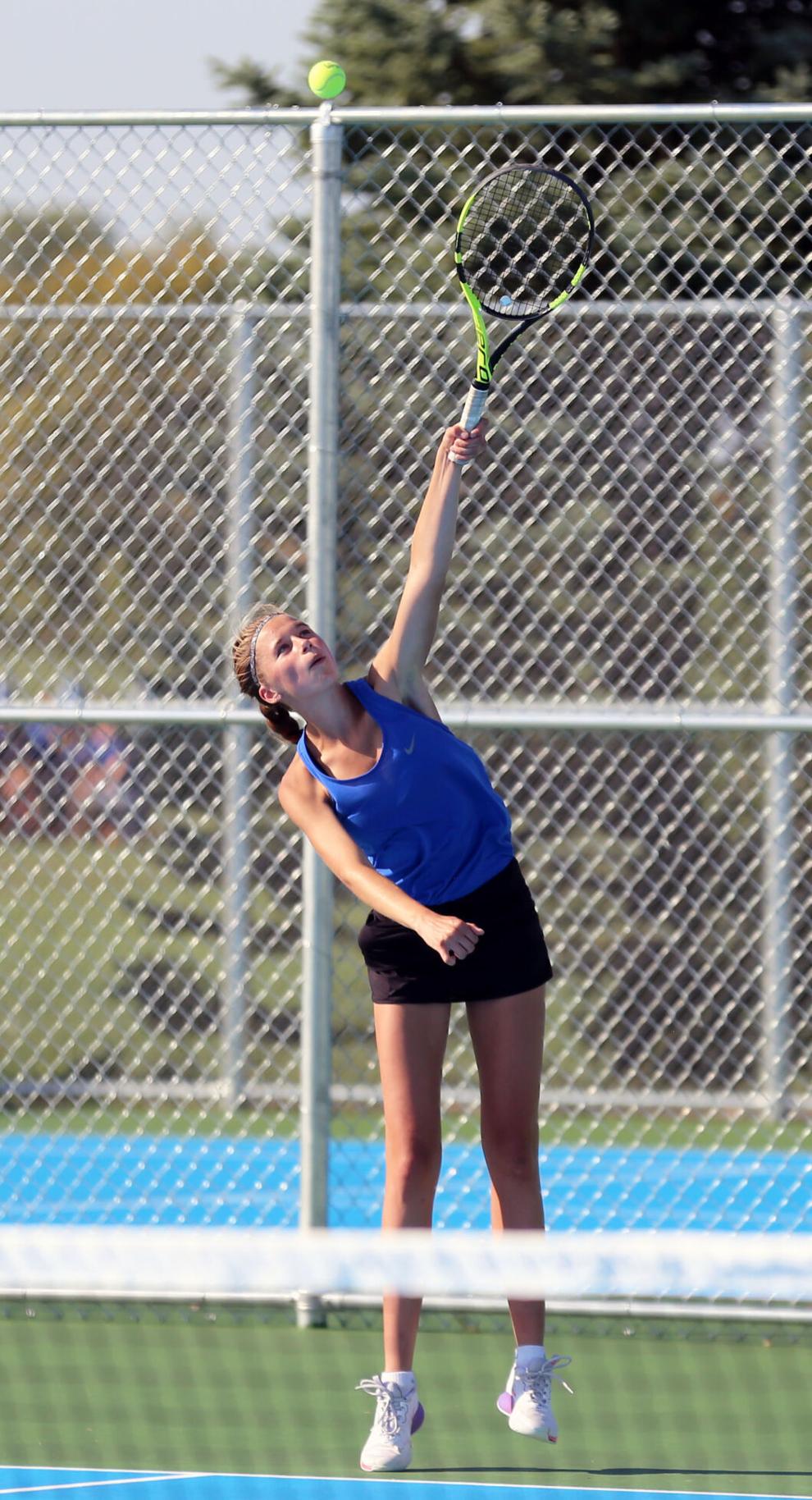 This week
This past week, the Raiders won a pair of Metro East Conference contests at home. On Tuesday, they hosted the South St. Paul Packers and won 4-3. Claire Keller swept her No. 1 singles match 6-0, 6-0 but Kranz dropped a tight No. 2 singles match up 6-4, 6-7, 6-2. Winkler was victorious in No. 3 singles 6-3, 6-4 and Brooklyn Keller took No. 4 singles 3-6, 6-3, 7-6. In doubles, Moran/Reese Keller fell at No. 1 6-4, 7-6 and Konrady/Haas dropped No. 2 doubles 6-2, 6-3. Ruby Rotty/Schuster won No.3 doubles 6-1, 6-3. 
Finally on Thursday, Hastings swept the Tartan Titans 7-0. Winning their singles matches were Claire Keller (6-1, 6-1), Kranz (6-1, 6-1), Winkler (6-0, 6-1) and Brooklyn Keller (6-3, 6-1). Victorious in doubles were the teams of Moran/Reese Keller (6-0, 6-1), Konrady/Haas (6-0, 6-2) and Ruby Rotty/Schuster (6-1, 6-2. 
What should fans expect to see when they watch Raiders girls' tennis underneath the water tower?
We have a young team and just having them be comfortable on the court and competing to the best of their ability," Welch said. "I hope that is what fans notice."
Hastings travels to Eagan for an invitational on Saturday (tomorrow) and then play three road matches over the course of next week -- at Roseville on Monday, Sept. 20, at North St. Paul on Tuesday and then they travel to Mahtomedi on Thursday.