Hastings Raiders football traveled to Chanhassen Thursday night and were unable to overcome a sluggish start offensively in the rain on the way to a 23-6 loss to the Storm. The Raiders could not move the ball in the first half and Chanhassen took advantage on both ends of the ball with two long drives and an interception returned for a touchdown. Hastings played much better in the second half but was not able to mount a comeback against the Storm's solid defense.
Chanhassen broke the scoreless tie with 2 minutes, 39 seconds left in the first quarter when they capped off a long drive with a 14-yard touchdown pass from junior quarterback Grant Muffenbier to senior wide receiver Charlie Coenen. The extra point was no good to make it 6-0 Storm.
Hastings went three-and-out on their possession following the Storm's score and Chanhassen marched down the field again for another touchdown. Muffenbier threw another touchdown pass, this time 12 yards to junior wide receiver Josh Och, on a fade to the corner of the end zone and after the extra point it was 13-0 Chanhassen with 8:32 left in the field half. 
After the next Raider drive stalled around midfield and they were forced to punt, the Storm marched from their own 10-yard-line and senior kicker Dmitry McDougle hit a 37-yard field goal to make it 16-0 with 59 seconds left in the first half. Hastings tried to score before the end of the half, but a pass by senior quarterback Axel Arnold was tipped into the air and intercepted by senior linebacker Gabe Porthan, who returned it 60 yards for a touchdown with just 11 seconds left to make it 23-0 heading into halftime. 
"Even in the first half we did some good things but started having trouble with a few things offensively that they were doing and they got on top of us," said Hastings head coach Dana Strain about the first half and what adjustments the Raiders made at halftime. "We just didn't get enough going offensively there. We tried to obviously be aggressive to maximize possessions at the end of the half and that's a killer going in (the interceptions), so just talked to the kids about not letting that define the game and they did a great job and came out (in the second half) and did the things we asked them to do. It wasn't anything schematically that we changed but the kids just competed and executed a little bit better as a team."
The Raiders started with the ball coming out of halftime and were able to get one first down before punting. However, the defense forced Chanhassen to punt for the first time all game on the Storm's ensuing drive and Hastings was finally able to gain some momentum. The Raiders put together a nice drive and Arnold hit senior wide receiver Stephen Reifenberger down the left sideline for a 33-yard touchdown where Reifenberger fought off a Storm tackler while trying to stay in-bounds. The two-point conversion was not successful and Hastings had cut Chanhassen's lead to 23-6 with 4:35 left in the third quarter.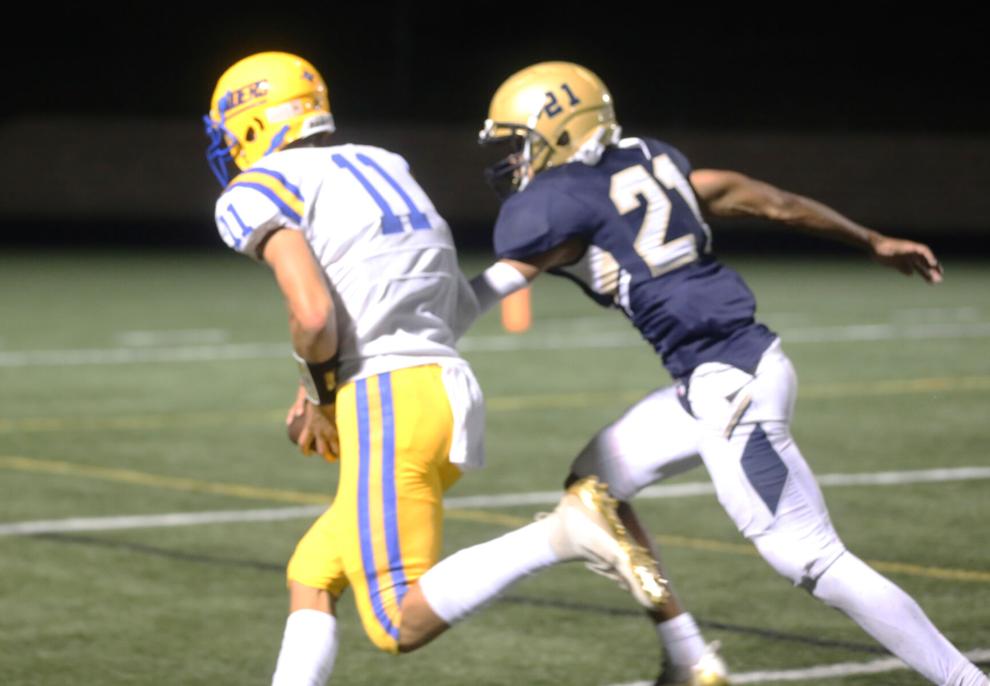 Neither team scored for the rest of the game, though the Storm did threaten at the end of the third quarter but the Raider defense stood firm and McDougal missed a 29-yard field goal where he appeared to slip in the wet conditions. Later in the game as Chanhassen attempted to run the time down, senior defensive back Ben Clemens made a terrific chase-down tackle to save what would have been a long touchdown run for the Storm. However, the Raiders' offense was not able to replicate their scoring drive at the start of the second half and mount a comeback so 23-6 was the final. 
Hastings definitely played better in the second half and had they played that way the whole game, the result would have been much closer.
"There's about three, four things that we said at halftime that we had to get done coming out of half time and the kids did all of them," Strain said after the game. "We scored first, we didn't quit, we got stops defensively, we ran the ball better, and those are all things that we talked about that we had to clean up a bit. So it's a good sign when you have that gut-punch right before half and your kids come out and execute, don't lay down and come out and do those things that you tell them to focus on."
The run game is usually Hastings' bread and butter, but they managed just 48 yards on 18 attempts against the Storm defense. Junior Payton Burow rushed 11 times for 26 yards while Arnold had six attempts for 16 yards and junior Rico Cooper ran once for six yards.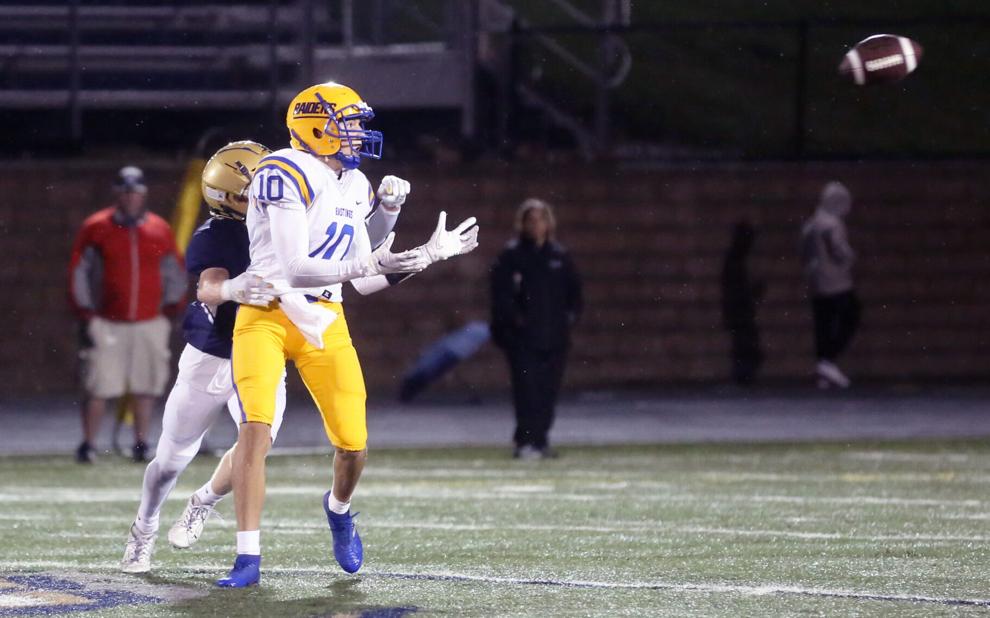 As the Raiders played from behind most of the game, that meant plenty of passing from Arnold, who was 10-for-22 for 129 yards with a touchdown and two interceptions. Junior wide receiver Jonathan Bezdicek led Hastings with four receptions for 52 yards while Reifenberger hauled in two receptions for 43 yards and a touchdown. Cooper added two catches for 22 yards and senior running back John Chorlton also had two receptions for 12 yards. Chorlton was one of the Raiders' best weapons in the game as he racked up over 200 yards in punts with a long of 54 and he pinned the Storm deep in their end twice. 
For Chanhassen, Muffenbier was sharp throwing the ball as he completed 14 of 18 attempts for 195 yards, two touchdowns and an interception. The Storm ran for 161 yards on 40 attempts, led by junior running back Jayden Talamantes who rushed 19 times for 109 yards. Och hauled in seven receptions for 104 yards and a touchdown. 
Hastings hosts Apple Valley next Thursday, Sept. 9, for the Raiders' home opener. The Eagles go to Mahtomedi tonight (Friday) for their first game of the season.