The 2021 volleyball season has not gone the way the Hastings Raiders would have hoped so far. The Raiders are 1-9 overall midway through their schedule and outside of that one win -- they beat the South St. Paul Packers 20-25, 31-29, 26-24, 25-19 on September 9 -- have not won a single set. Hastings faces a somewhat rare problem: there are 12 seniors on the varsity roster, however very few of them have much varsity experience.
"Really we have two of them coming back from the 12-14 that we had last year," said Raiders head coach Anne Korenchen. "So we just don't really have many that have a ton of varsity experience, which is tough. The jump from JV to varsity is huge, the jump from B-squad to JV is significant, but from JV to varsity it's such a faster game, the pace is so much more, the other team is doing a whole lot more than what they'd be doing on JV, so just the speed is totally different. We're just not quite accustomed to it."
Some coaches, with so many seniors on a team with a 1-9 record, might start playing younger players more and look toward the future. Korenchen, though, knows her team can compete when they set their mind to it.
"Yeah that's always tough, but these seniors, they wait for it, they crave it, I mean they put four or five years of work and effort into it to get their time on the court," she said. "So they've worked for it, they've earned it, and when they really want it, it shows."
Starting with the match at Cannon Falls last Tuesday, Korenchen and her staff made some changes to the offense and lineup. They switched from running a 5/1 offense, which has one player do all the setting surrounded by five attackers, to a 6/2 which splits up the setting and allows all six players on the court to be an offensive threat. Korenchen also pulled up some players from JV to supplement.
"We pulled up a couple of JV players to help us in the back row and in the front row, just make that a little bit stronger," she said. "We're working on, instead of having Megan (Meyer) run a 5/1, she's able to hit in the front row. When things are on she has just phenomenal body control which gives us another hitting option instead of just two hitters in the front."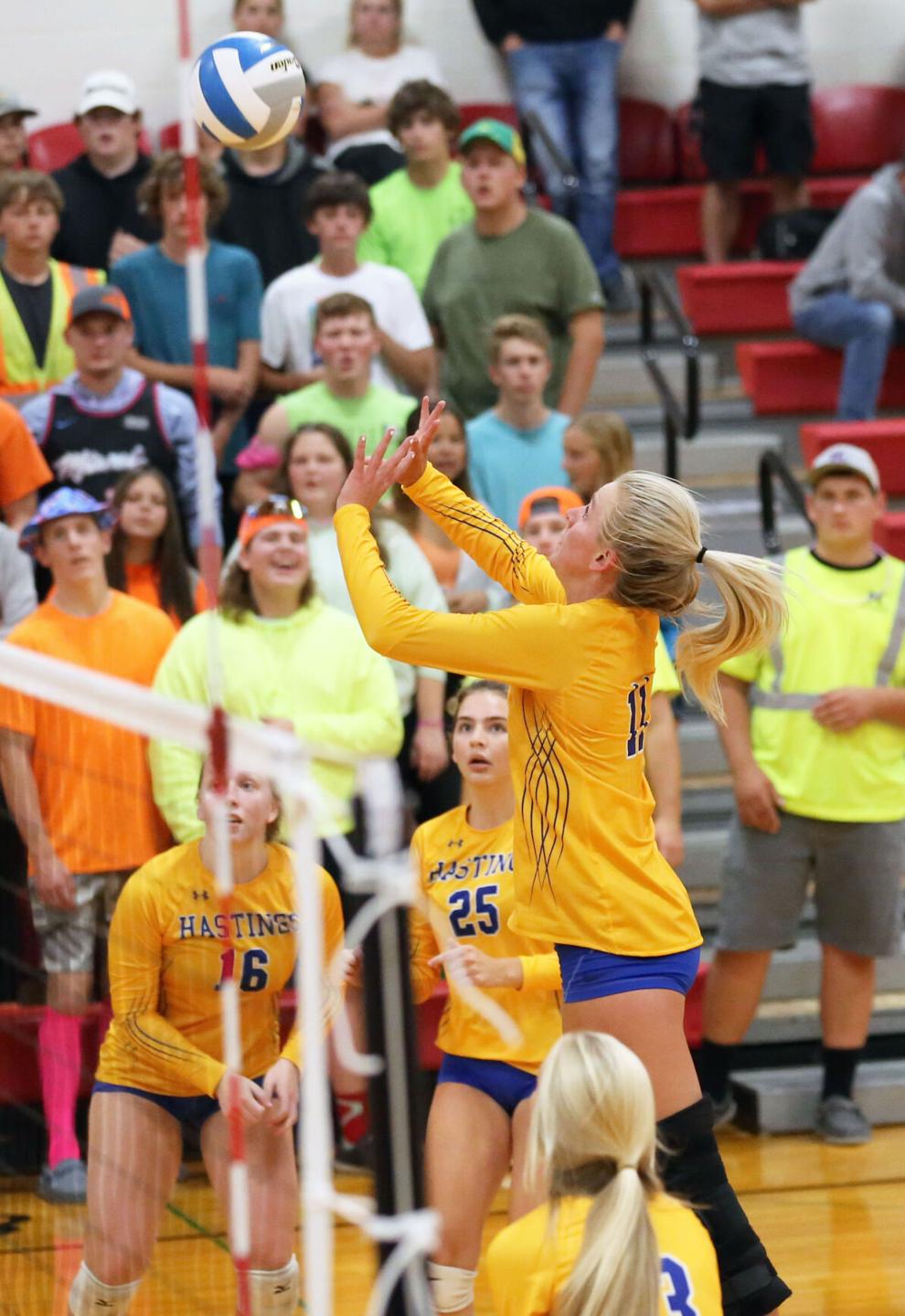 In the match against Cannon Falls came the return of senior Lilly Nuytten from a knee injury that will take some time for her to gain confidence in. Her presence was felt in the front row for the Raiders though, as well as one of those returning from last year's team. Hastings lost to the Bombers 25-6, 25-17, 25-4.
Moving forward, Korenchen said the Raiders will focus on the positives and try to build upon those positives and what they have learned.
"At this point, just building off what we've already established and really making a true rotation with whoever's in the game, we just build off of it," she said. "We chip away at those scores that are single digits to double digits, at least making it competitive where it's double digits to double digits, that's the next big thing."
The Raiders traveled to Simley September 16 where they lost to the Spartans 25-9, 25-13, 25-10. Then Tuesday, Hastings traveled to Two Rivers (formerly Henry Sibley) and fell 25-7, 25-11, 25-14. They are in the middle of their Metro East Conference schedule, but will have a good chance to make some momentum when they host the 3-6 North St. Paul Polars on Thursday and then their home invitational on Saturday. Hastings will play St. Croix Lutheran (4-2), St. Paul Central (7-1) and Anoka (1-5).
"I think we just have to keep on working with this new lineup that we just implemented tonight and we keep rolling with the positives," Korenchen said about her goals for the rest of the season.
Next week, the Raiders travel to Mahtomedi on Thursday, Sept. 30.