The Hastings Raiders football team came away from Bloomington with a resounding 38-7 win Thursday night over Jefferson, which all but ensured them No. 2 seed in the Class 5A, Section 3 playoffs and a first-round bye. The Raiders, who got much too close to blowing a 42-9 lead at Two Rivers last week, did not make the same mistake again as the Jaguars only scored on their first possession of the game.
Hastings also overcame the absence of three starters -- running back Peyton Burow, wide receiver/defensive back Stephen Reifenberger and wide receiver/linebacker Thomas Reifenberger -- which resulted in a breakout game by junior Jonathan Bezdicek.
"He's a top-end speed kid, once he gets into space he's hard to handle," said Hastings head coach Dana Strain about Bezdicek. "When we've seen the gap or hole develop, he's gotten it down in there physically. He's an ascending player who's showing the growth you'd hope to see throughout the year."
Bezdicek was all over the field in the win as he rushed for 58 yards and two scores on four carries, had one reception for eight yards and added an interception on defense.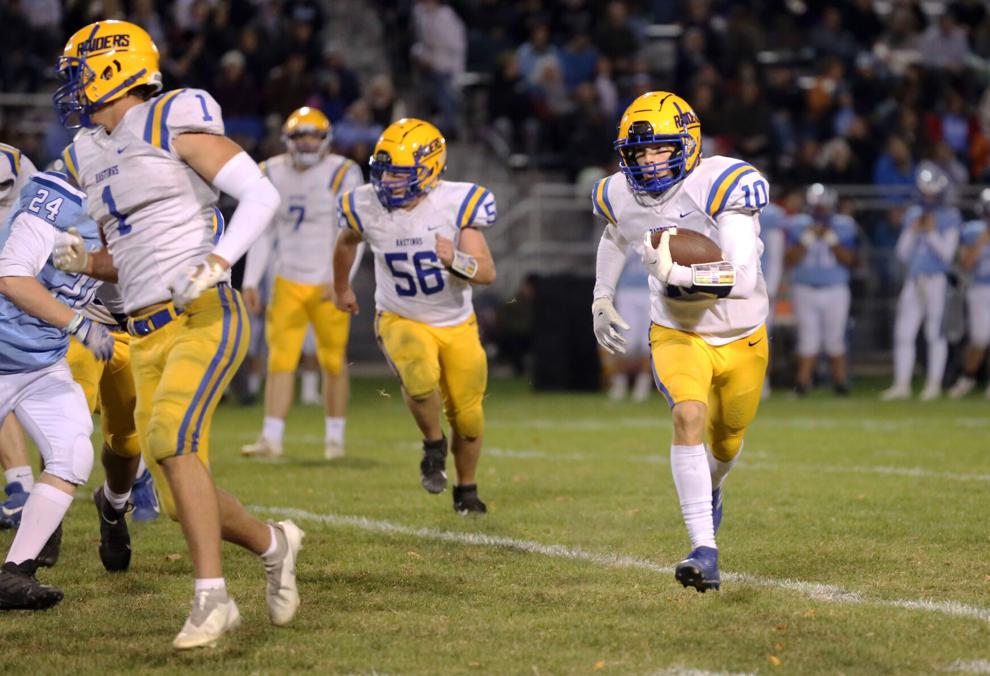 Senior Brenden Freiermuth continues his strong play as the main back with the injury to junior running back Peyton Burrow. With the absence of senior Stephen Reifenberger, junior wide receiver Rico Cooper has also seen his role increase substantially.
"It's just that time of the year where you're going to have guys out for various reasons and just start to get banged up a little bit," Strain added about players like Bezdicek, Freiermuth, Cooper and others stepping up. "That's something we've been able to withstand because of our depth, that's part of why we're having success this year, we've got a pretty deep team and guys who can play multiple positions."
The Raiders are now 5-2 overall and will host the 2-5 Cretin-Derham Hall Raiders Wednesday, Oct. 20, in the regular-season finale. The only way Hastings does not get the No. 2 seed is in an unlikely scenario involving Bloomington Kennedy. Kennedy, which is 3-3, would have to beat St. Paul Academy/Minnehaha Academy/Blake Friday night and Minneapolis Henry Wednesday along with the Raiders loss to make seeding interesting. Even then, Hastings might still have enough of a lead in QRF that it would not be enough.
Bloomington Jefferson forced a Hastings punt on the first possession of the game and then marched right down the field and scored, helped along by several Raider penalties. It was a punch to the mouth for Hastings, who woke up and responded by not allowing another score the rest of the game while dominating the Jaguars on both sides of the ball. The Raiders accumulated almost 400 total yards of offense and ran for over 300. On defense, they limited Bloomington Jefferson to just 200 total yards and forced two turnovers.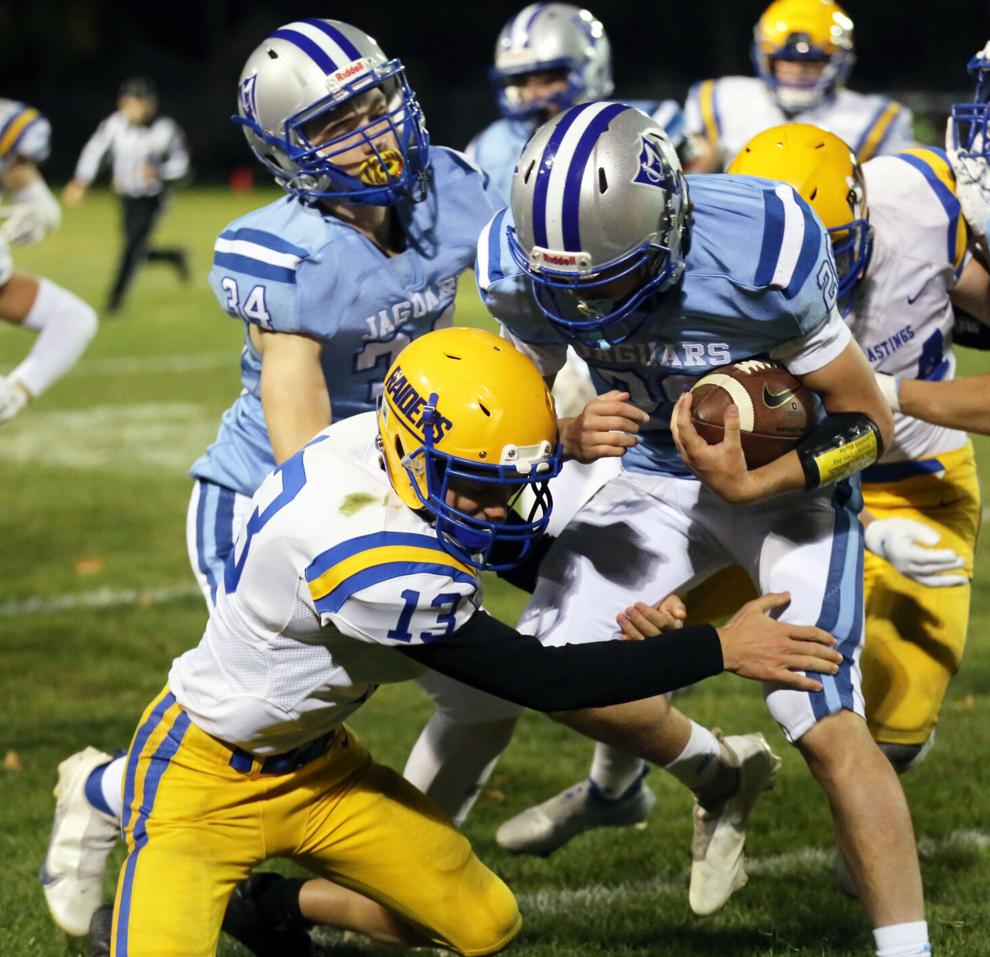 "We're winning up front, that's No. 1 and that always helps ya," Strain said about the offense putting up 80 points the past two games. "We've been pretty good about that throughout the year."
Immediately following the Bloomington Jefferson score on a drive that took up most of the first quarter, Hastings drove down the field and Bezdicek scored from 7 yards out on a sweep. Senior Rhys Fillion made the extra point and the game was tied 7-7 just 53 seconds into the second quarter. 
The Raider defense then forced a punt and the Jaguar punter mishandled the snap, which Bloomington Jefferson recovered but allowed Hastings to take over in the red zone. Senior quarterback Axel Arnold eventually converted a QB sneak for a touchdown from a foot out and Hastings led 14-7 with 7 minutes, 13 seconds left in the first half. 
Bezdicek scored his second touchdown of the game after another Jaguar punt, this time on a classic reverse where Arnold handed off to senior Brenden Freiermuth, who then relayed it to Bezdicek for a 32-yard touchdown. The Raiders extended their lead to 21-7 with 3:56 left in the first half. 
Bloomington Jefferson responded with one of their better drives of the game, but Jaguar quarterback Tyson Schultz threw a bad ball on a fade to the end zone and Bezdicek came up with an interception. Hastings had two minutes left in the half to score and they were able to drive down to the Jaguar 11 yard-line, where Fillion then hit a 28-yard field goal to make it a 24-7 halftime score.
Bloomington Jefferson received to start the second half but went nowhere and then Freiermuth blocked the punt, which was recovered by junior Thomas Kennedy at the Jaguar 3 yard-line. Freiermuth punched it in for a 1-yard touchdown and the blowout was officially on as the Raiders led 31-7 with 10:22 left in the first quarter. Toward the end of the third quarter, Freiermuth broke a 67-yard touchdown run after Bloomington Jeffers turned the ball over on downs at the Hastings 14, which made it 38-7. He finished with 19 carries for 155 yards and two touchdowns.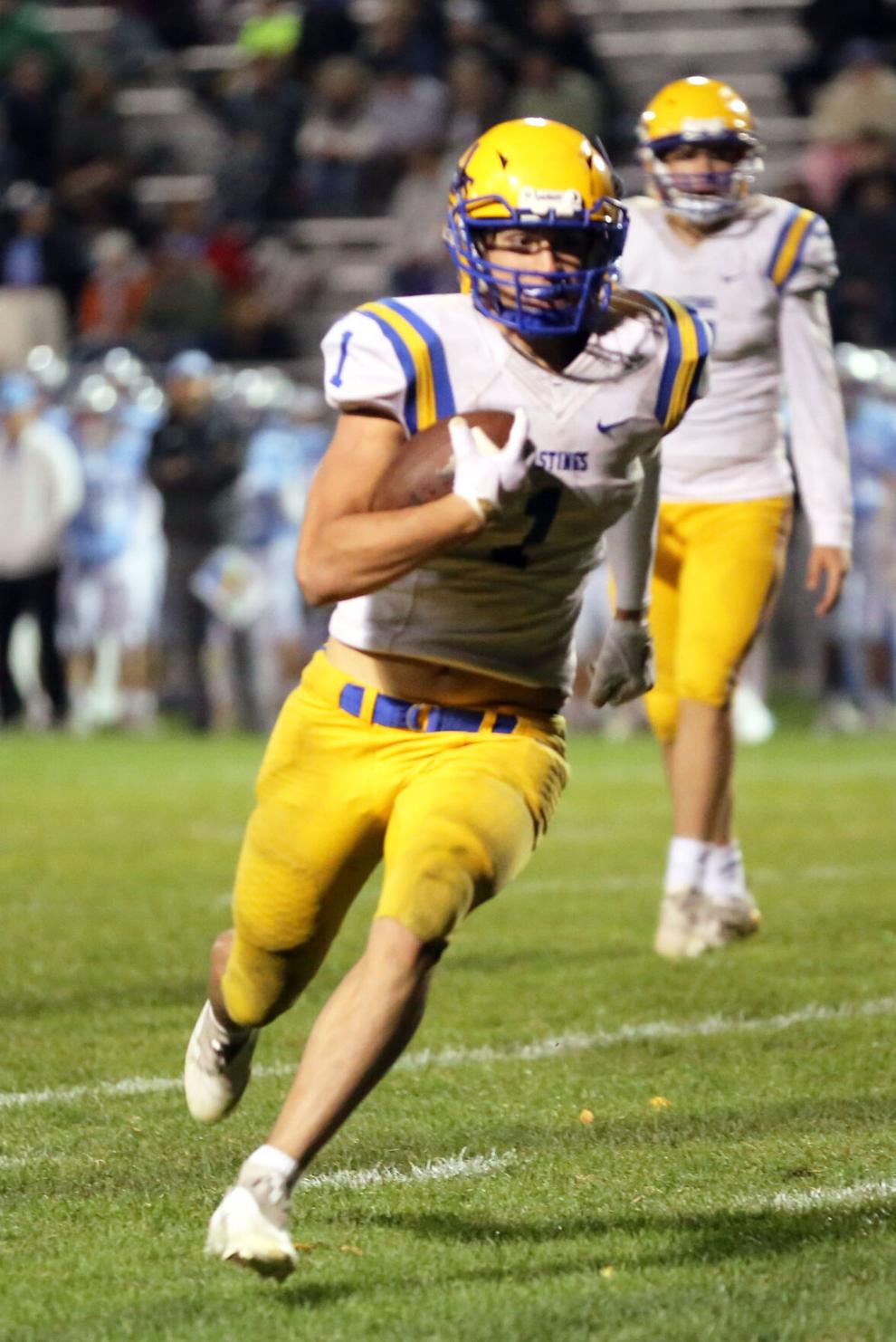 The Jaguars turned the ball over on downs two more times in the game and Fillion was barely short on a 45-yard field goal before the end of the game. 
Arnold had seven rushing attempts for 54 yards and a score while completing 7 of 12 passes for 74 yards. Junior Rico Cooper led all receivers with five receptions for 53 yards and junior Gavin Odman had one catch for eight yards. Fillion was a perfect 5-for-5 on extra points and 1-for-2 on field goals with a 28-yard make and 45-yard miss.
Looking ahead to Wednesday, Strain said that Cretin-Derham Hall is a good opponent to have on a short week as schematically, they are similar to Hastings and other teams they have played this year. The Raiders will not have to prepare to face anything particularly new or exotic for their regular season finale.