The Hastings Raiders boys basketball team is just four games into its 2021-2022 season, but fans who watch them play will see a team that is a lot like last year's Raiders squad.
"It's very similar actually. Two years ago we had a lot of seniors, we graduated a lot of guys," said head coach Chad Feikema when asked to compare this year's team to last season's. "Last year's crew, with a lot of new players, started slow and then played really well late. This group will improve leaps and bounds as the season goes on. Not sure how the next month will play out, we've got some tough competition and we've got improvements to make. I'm confident we will make them, but like last year's team it will be a matter of when."
The Raiders are 1-3 in their first three games. They started the season with a tournament in Red Wing where they fell to Hibbing 75-56 in the first round and then beat East Central 74-33 in the second round. Last Tuesday, Hastings hosted Highway 61-rival Park of Cottage Grove and lost a close contest to the Wolfpack 61-59. Then this Monday, Dec. 13, the Raiders lost to the Hudson (Wis.) Raiders 67-55.
Through those first couple of games, Feikema said the main areas that need improvement are on the defensive end. In specific, he said his players need to take better angles when guarding on-ball and when they go to help, their rotations and their communication. Fouling has also been a concern, especially when pressing, which the Raiders did for much of the game against East Central.
"When we are pressuring our opponent, we are hoping that they give the ball away, we're not trying to take it away," Feikema said. "And when you try and take it away, that's when you end up with the fouls. So we have to do a better job of being a little more fundamentally sound in that regard."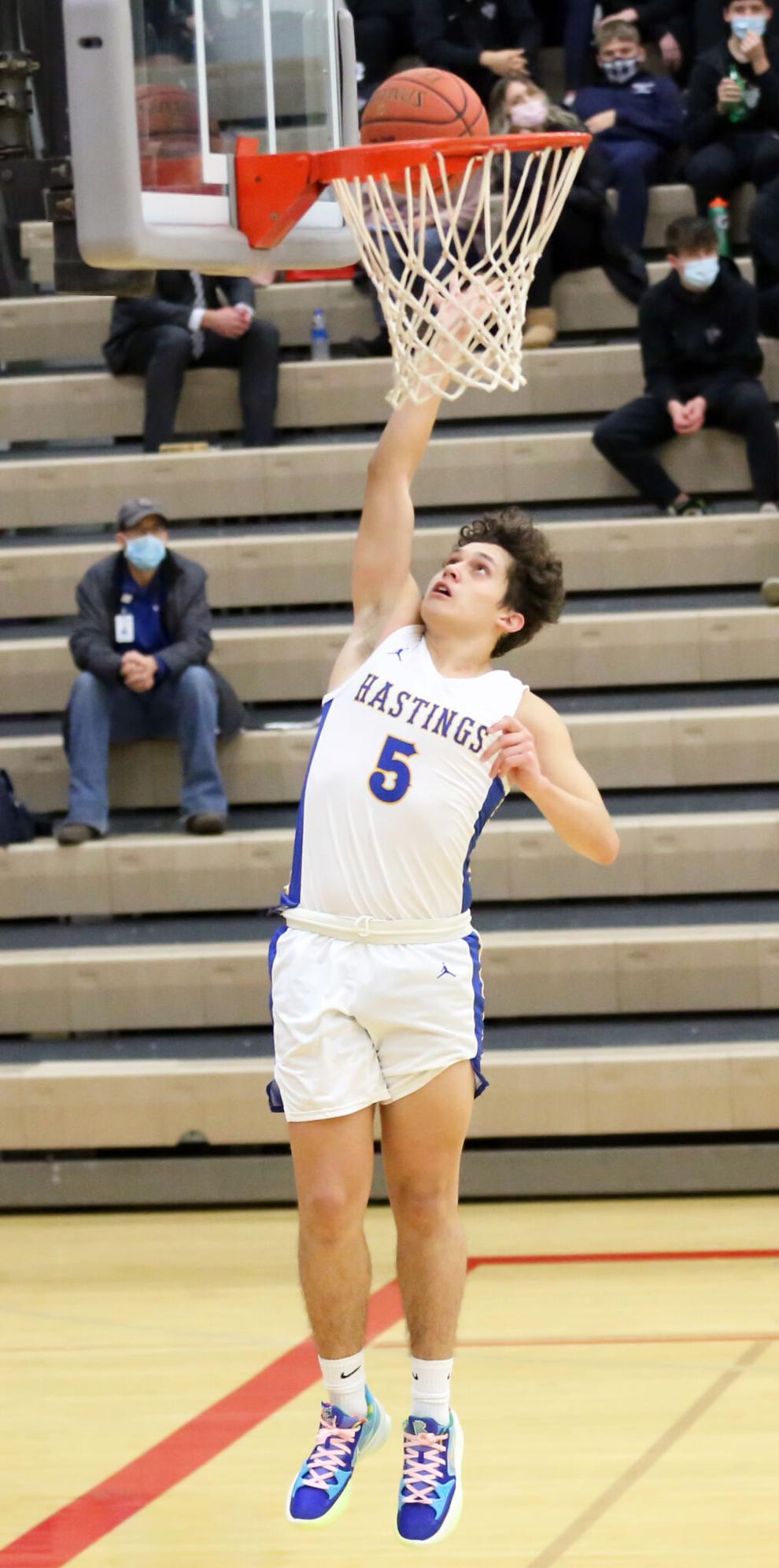 Shooting will be a strength of the Raiders this season, but Feikema said that being able to score at the basket will be key to his team's success.
"We talk a lot about paint touches on the offensive end and we're going to need to get more paint touches from our perimeter players in terms of dribble penetration for us to compete," he said. ""We have a good perimeter shooting team but we have to be able to score at the rim and we're going to have a hard time scoring at the rim in the half court. So that means our defense has to create transition opportunities to get some points near the rim."
The reason for that is once again, Hastings will not have much size. Feikema said they will most likely be the smallest team compared to their opponents and will not be bigger or more physical than the teams on their schedule either.
"We'll hope to take advantage of a number of things. Matchup issues go both ways," he said. "We're going to have a hard time matching up with size. We hope that teams with size will have a hard time matching up with our perimeter play. We're going to have to hit the perimeter shot to create opportunities to score at the rim. Other teams will score at the rim and create opportunities for open threes."
To deal with teams who have a size advantage and want to play through the post, Feikema said the Raiders will pressure the ball a lot out on the perimeter while fronting in the post to make entry passes difficult. He compared the advantages the Raiders have and the disadvantages they face as a puzzle where they will try and make all the pieces fit.
Senior guard Michael Mitchell is one of the few players who saw significant time on that team two years ago and will be one of the main scoring threats for Hastings. He scored 20 points against Park last week.
Fellow senior Axel Arnold will be the offensive hub for the Raiders. He operates out of the high post and makes good decisions with the ball in his hands, much like his quarterback play for Hastings this fall, and often generates good looks at the rim for cutting teammates.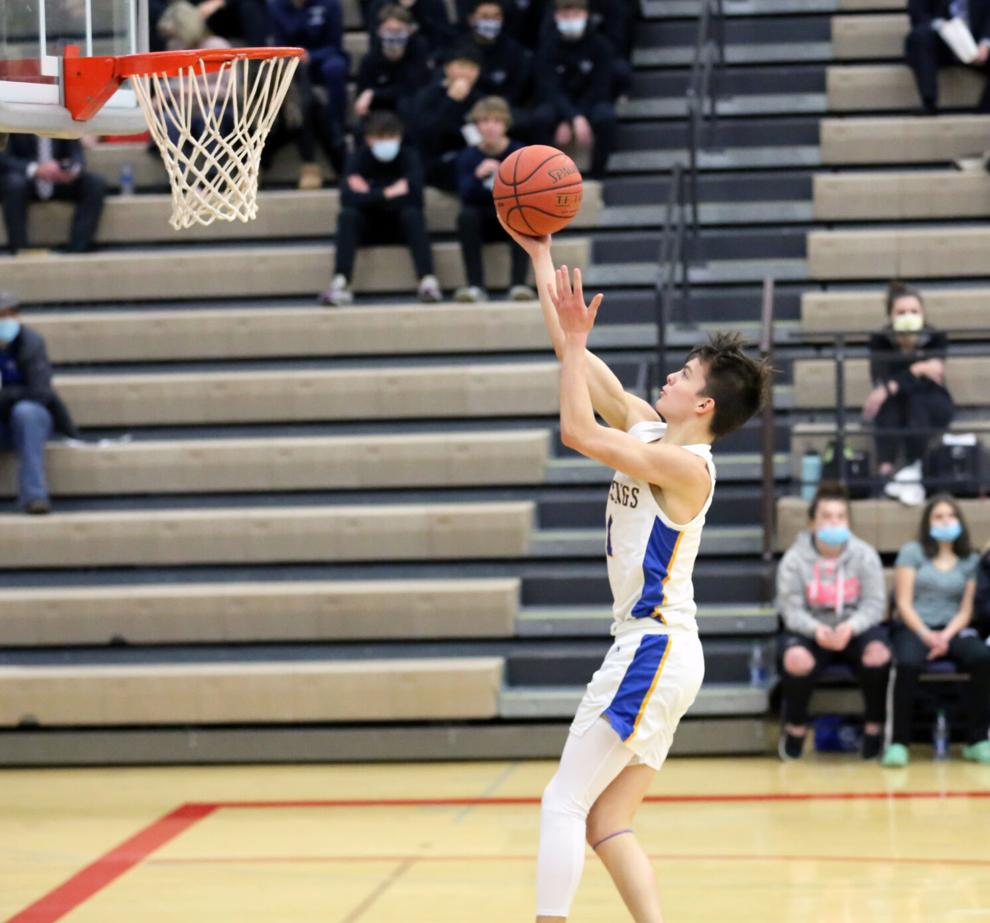 Feikema also highlighted the play of sophomore Owen Bernatz early on.
"Owen, he kind of takes over the role this year as a sophomore that Evan McGinnis had a year ago as a senior," he said. "He needs to be our assassin. It stood out that he played with as much confidence as he did early and he's working really hard to improve defensively, so that's kind of stood out."
Hastings travels to Apple Valley on Wednesday, Dec. 15, to take on the Eagles and then is at Woodbury on Tuesday, Dec. 21.