Stifling defense and a much-improved offense helped the Hastings Raiders football team shutout the Apple Valley Eagles 21-0 Thursday night. The Raiders finally got their running game going after a sluggish performance at Chanhassen last week, which allowed the passing game to start clicking as well with the result a big win over a section opponent in the home opener at Todd Field/McNamara Stadium. 
The Hastings offense racked up over 300 total yards, including over 200 on the ground and almost 100 in the air. They converted 20 first downs while the Raider defense held Apple Valley to just 59 total yards and three first downs, one of which was by penalty.
"I think just that our line is the big difference," said senior Raider quarterback Axel Arnold about the contrast between the Chanhassen and Apple Valley games. "We had all day in the pocket, we were running our feet up front. We didn't really get the running game going last week against Chanhassen, so when our line got the running game going this week, it opened up new areas for the passing game and that's really what made the difference."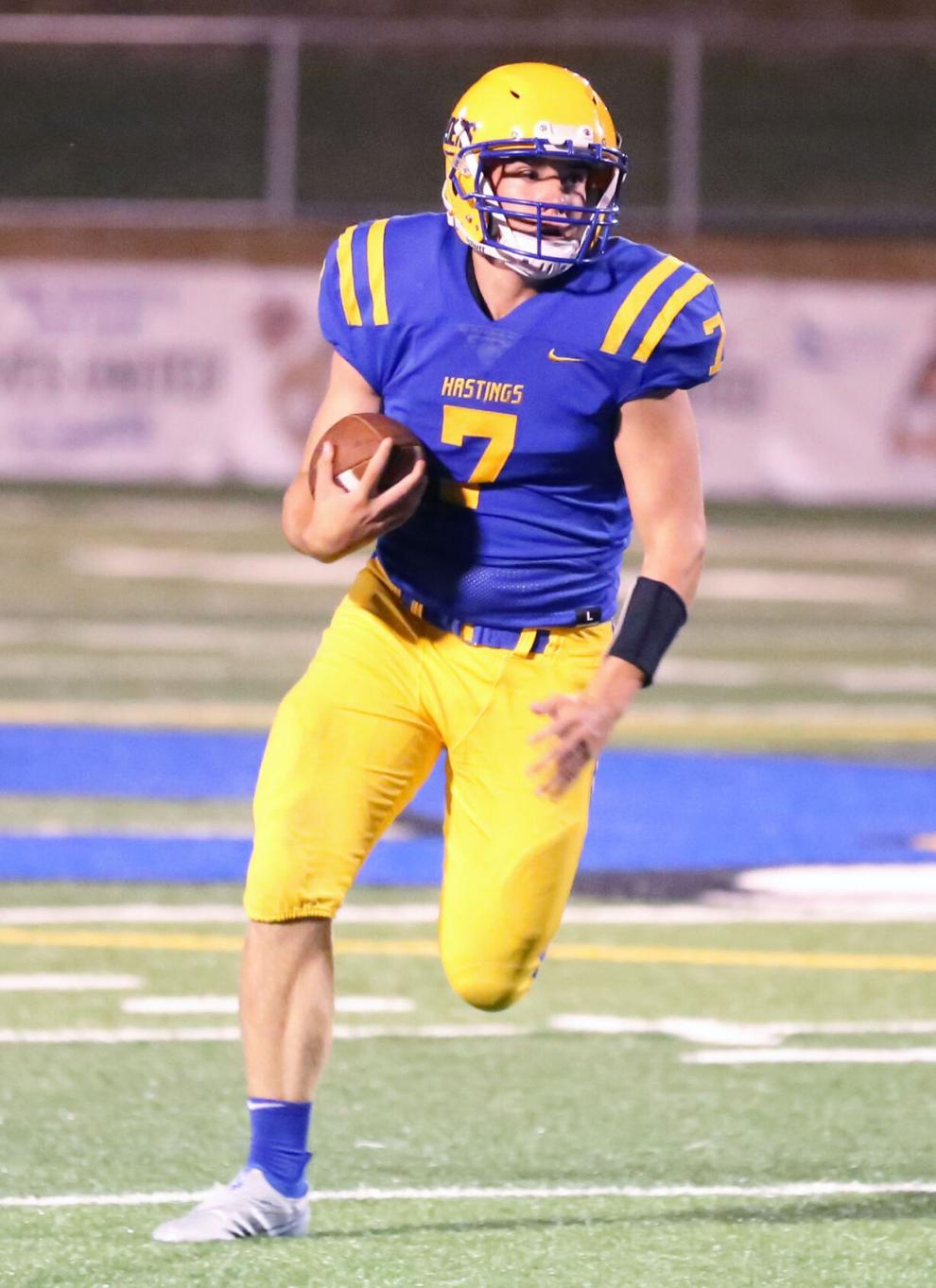 Both teams got off to slow starts as they felt each other out, but Hastings struck first right before the end of the first half. First the Raider defense came up big after a shanked punt which allowed Apple Valley to start at the Raider 34-yard-line. The Hastings defense stopped the Eagles on 4th-and-1 at the Raider 25 and took over on downs with 2 minutes, 17 seconds left in the second quarter. From there, the Hastings offense drove down and Arnold was able to hit junior wide receiver Jonathan Bezidcek down the seam for a 26-yard touchdown pass. The extra point by senior Rhys Fillion was good and Hastings led 7-0 at half.
"They were really worried about Stephen Reifenberger, so they brought the safety over on top of him, Bezzy (Bezdicek) is the fastest kid on our team, he runs a 4.6 (second) 40 (yard dash), so right when I knew they had him in press coverage, I knew where I was going," Arnold said about the touchdown pass to Bezdicek.
That touchdown pass was set up by Hastings' quick passing game on outs and slants, many of which were to senior wide receiver Stephen Reifenberger. Apple Valley paid a little too much attention to Reifenberger and paid for it.
"Yeah the quick passing honestly did (set up the offense) because when they are ready for that, they start pressing up tighter and worrying about the pass, and then it just leaves holes wide open up front," Arnold said about setting up Hastings' rushing attack in the second half.
A majority of Hastings' 222 rushing yards came in the second half after being set up in the first half. Junior running back Payton Burow was a wrecking ball between the tackles as he carried the ball 21 times for 101 yards and averaged 5 yards per carry. Arnold ran the ball 12 times for 85 yards and a 2-point conversion, with much of his yardage coming on a long run he broke in the fourth quarter.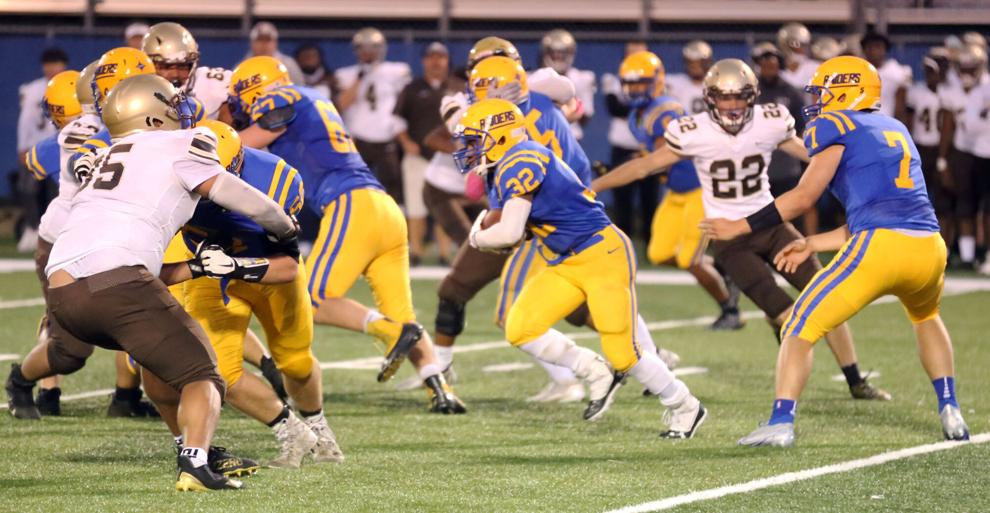 Midway through the third, Hastings was able to take advantage of a short field after the Raider defense put Apple Valley behind the sticks on a sack by junior Austin Leflay and an Eagle holding penalty. Apple Valley was forced to punt but they were also flagged for punt-catch interference, so Hastings started their drive at Eagles' 43. From there, the Raiders drove down and senior running back Brenden Freiermuth punched it in from 1 yard out to give Hastings a 13-0 lead after the extra point was blocked with 4:35 left in the third.
The Raider defense came up big again late in the third when Hastings muffed a punt and Apple Valley recovered at the Raider 26. They forced the Eagles to turn the ball over on downs after gaining just a few yards, which then led to Hastings' best drive of the night capped off by a 6-yard touchdown pass from Arnold to Reifenberger and the two-point conversion by Arnold to make it 21-0 with 6:11 left in the game. Apple Valley was not able to muster up any kind of response.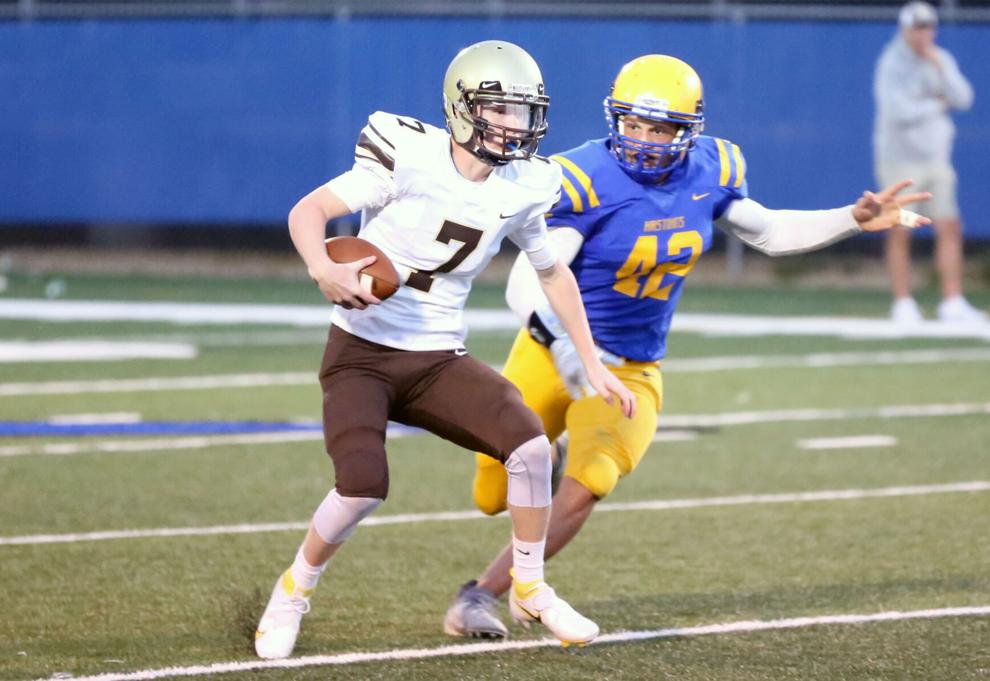 It cannot be overstated how well the Hastings defense played. On top of allowing just 59 total yards, they stopped Apple Valley deep in Raider territory several times, the first of which came when the Eagles started at the Raider 30 but junior defensive back Danny Millner pulled in an interception at the goal line. Leflay, fellow junior Thomas Reifenberger and sophomore Luke Chorlton all had big sacks that helped stymie Apple Valley drives as well.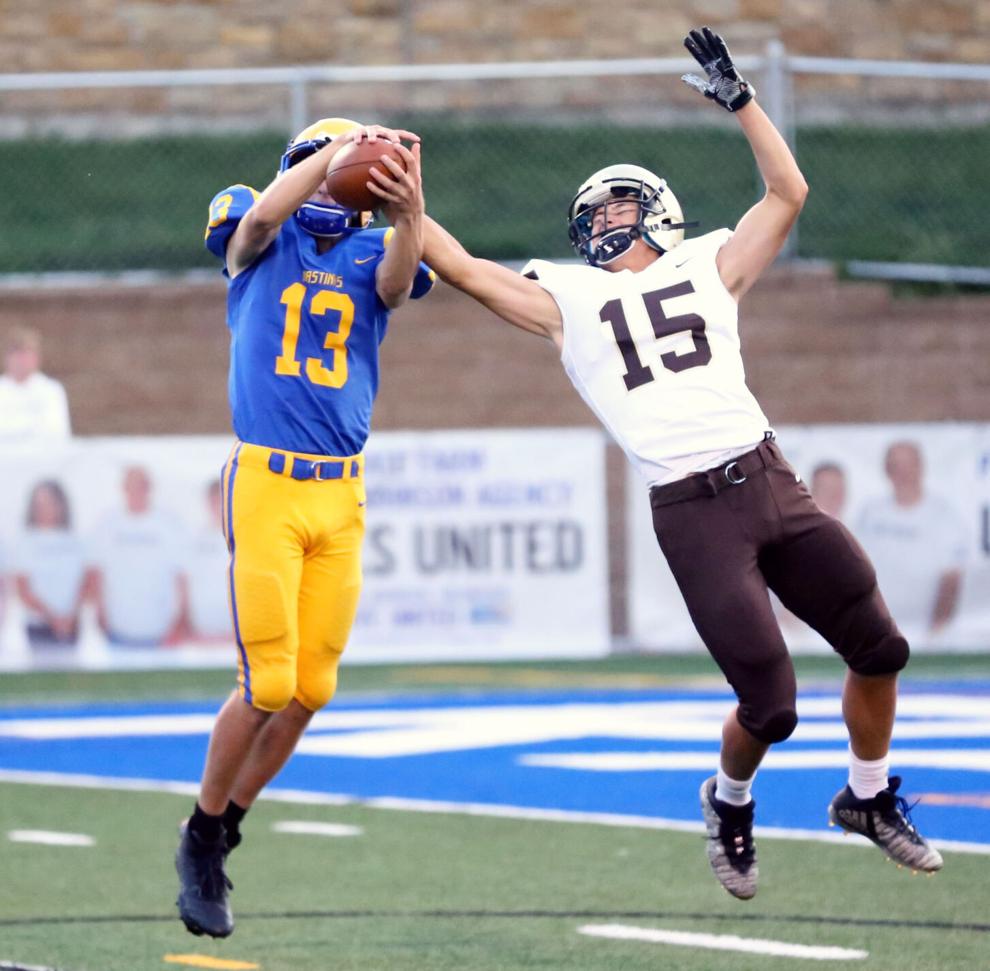 Arnold completed 9-of-15 passes for 82 yards and two touchdowns. Following Burow and Arnold in the rushing game was Freiermuth, who added 29 yards on nine carries with a touchdown. Stephen Reifenberger led all receivers with four receptions for 33 yards and a score while Bezdicek hauled in three passes for 31 yards and a touchdown.
Hastings hosts the Simley Spartans next Friday, Sept. 17, at 7 p.m. That game will be Parents' Night, Tackle Cancer Night and the 2001 state championship football team will also be recognized. The Spartans beat St. Louis Park 32-12 in Week 1 and host Hill-Murray tonight.