Matt Van Der Bosch called game in the bottom of the ninth with a walk-off, solo home run to right center that gave the Miesville Mudhens a 2-1 win over the Dundas Dukes Sunday afternoon. The two teams played their Section 1B regular season finale at Jack Ruhr Field on July 25 in a game that had playoff seeding implications for the Dukes, while Miesville sits comfortably as the No. 1 seed. It was an exciting and fitting end to a game that was more of a pitcher's duel and defensive showcase than the offensive explosion that took place for Miesville in their 16-9 win over Lake City on Friday.
The first four innings were scoreless as Riley Ahern got the start on the mound for the Mudhens and Todd Mathison took the bump for the Dukes. Ahern held Dundas to just one hit over those four innings with five strikeouts while Mathison limited Miesville to just three hits. Mathison was able to get two double plays over that period to end scoring chances for Miesville.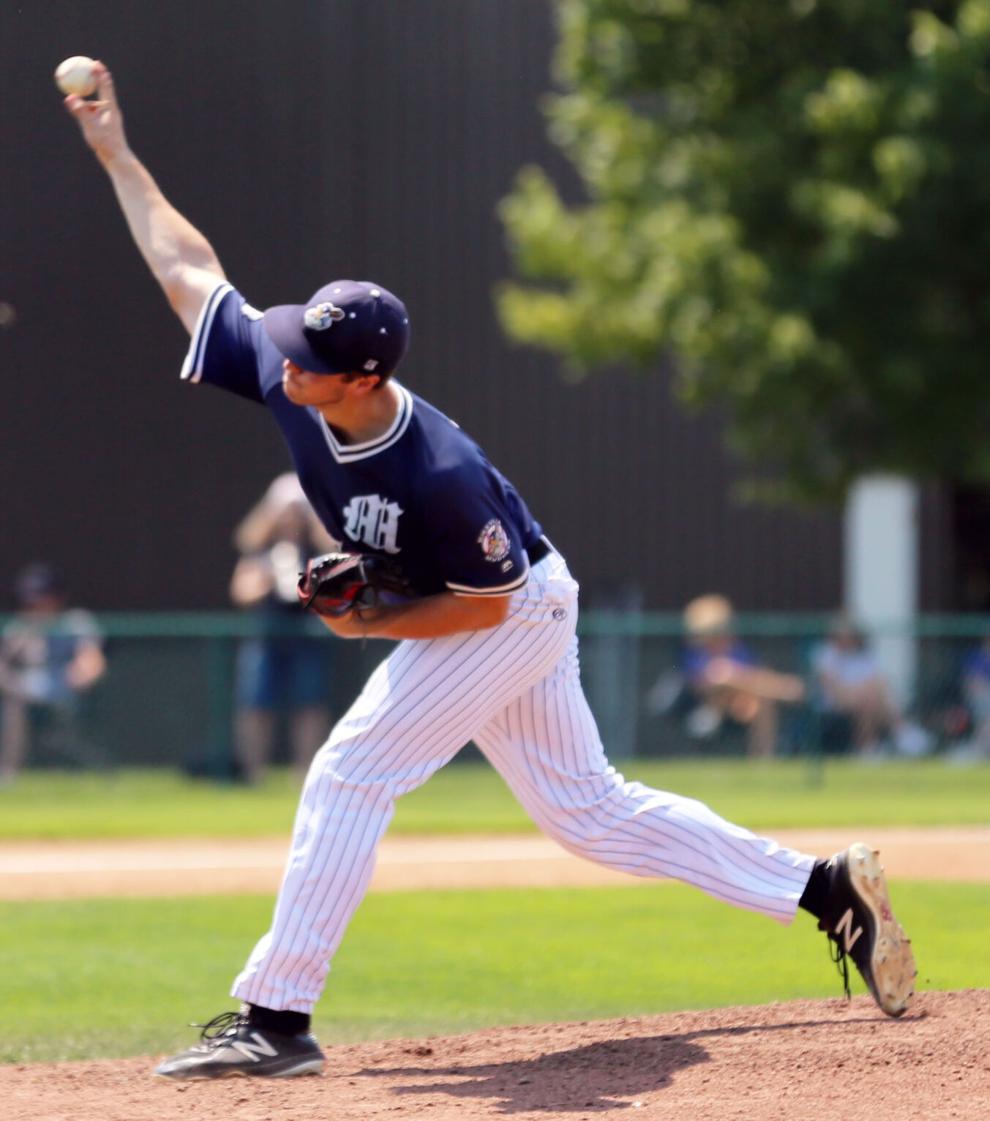 The Mudhens struck first in the bottom of the fifth when Jordy Horsch singled with two outs and advanced to second on a passed ball. Ben Vujovich reached on an infield single and Joey Werner scored Horsch with an RBI single to give Miesville a 1-0 lead.
Aidan Maldonado relieved Ahern after the fourth inning in what Van Der Bosch said was a plan to pair the two and help build them up to be ready for the playoffs. Ahern is coming off of an injury and Maldonado has not made many appearances. He threw two scoreless innings in relief before being relieved by Matt Moore heading into the seventh. 
Dundas tied the game in the top of the eighth when Carson Jones walked and scored on an RBI double by Matt Van Roekel off of Moore. Blake Ritzer pitched a scoreless ninth for Miesville and with one out in the bottom of the ninth, Van Der Bosch hit a no-doubter to left-center over a lone pine tree to win the game for the Mudhens.
Miesville has three games left this week for its regular season, but Classic Cannon Valley League and Section 1B regular season play is over. The Mudhens finish at the top of the CCVL with an 11-4 league record and are also the No. 1 seed in Section 1B with a mark of 9-3. 
Dundas finishes 5-7 and is the No. 6 seed in the Section 1B and will have to play a play-in game with No. 7 Northfield on Sunday, August 1. From there, Miesville will play the winner of that game in a best-of-three series to go to state. Game one is Friday, August 6, and game two is Sunday, August 8. If a third game is needed, it will be on Tuesday, August 10. The three winners of the series advance to state as well as one more team out of the three teams who lost the series.
Van Der Bosch said that even though Miesville was bugged by injuries for much of the season, they had several players step up to fill in and play roles they were not necessarily used to, especially the pitchers having to play in the field.
"We had some guys who stepped up in spots, for much of the season we were nagged with injuries and then losing three or four kids to college leagues, which really kind of hurt us on the position player side," he said. "There were plenty of games where we were playing two, three, four pitchers in the field where normally they're not accustomed to (doing that). We performed well there and the hope is we're gonna get some guys back once playoffs start and what not, get some guys healthy."
Van Der Bosch mentioned pitchers Jacob Dickmeyer, Quinn Kruger, Moore and Thomas Shogren specifically for helping the Mudhens in the field and at the plate. 
However, the Mudhens took another injury blow Sunday when Deryk Marks went to field a ground ball at shortstop and crumpled to the ground with an apparent leg injury in the middle of the game. He needed help to get off the field, which will stretch Miesville's infield depth even more. Dickmeyer replaced him in the field and played second base while Brian Sprout shifted to shortstop. 
Despite position player depth issues, Van Der Bosch said the pitching staff has been a bright spot for the team.
"Pitching is pretty good. For the most part we've been fortunate there," he said. "We have a lot of arms which is beneficial, when we have these couple weeks here where we played four games a week, we weren't really taxed that much. We got some really good performances out of guys who we ended up having to rely upon to eat up more innings, that's been really nice to have and a plus for us, the depth of the pitching staff."
Miesville hosts the Champlin Park LoGators on Wednesday, July 28; St. Louis Park on July 30 and then the Blaine Fusion on August 1. After that, they will play their best-of-three series with the winner of Dundas and Northfield to go to state, where last year they beat Coon Rapids and Champlin Park before falling to Chanhassen and the Cold Spring Springers. The 2021 Class B State Tournament is in Waconia, Chaska and Hamburg over the course of three weekends from August 20 to September 6.