Friday's Section 1B playoff game between the Miesville Mudhens and the Dundas Dukes was close until you blinked and all of a sudden, it wasn't. The Mudhens trailed 2-1 through five innings and up to that point, had just four hits. Charlie Ruud was cruising on the mound for Dundas and it looked like the game would come down to the wire like the two team's last regular season meeting just two weeks prior. However, Ruud was pulled after that fifth inning and the Mudhens' bats came alive as they scored 10 runs the next two innings to run away with the game and win 11-2.
Miesville is now one win away from returning to the Class B State Tournament and they will travel to Dundas Sunday afternoon for game two of the best-of-three series. Ruud is most likely Dundas' best pitcher and they wasted a great performance on his part. Should the Mudhens win game two in Dundas, the Dukes would then have to battle through a round-robin against the two other teams who lose their series, with the winner grabbing the fourth and final entry from Section 1B to the state tournament.
Riley Ahern started on the mound for Miesville opposite Ruud and pitched very well. He went six innings and gave up just two earned runs in the top of the fourth when Nate Van Roekel hit a two-run home run that scored leadoff man Carson Jones. Outside of that. Ahern earned the win after giving up those two earned runs on a total of five hits and a walk with four strikeouts.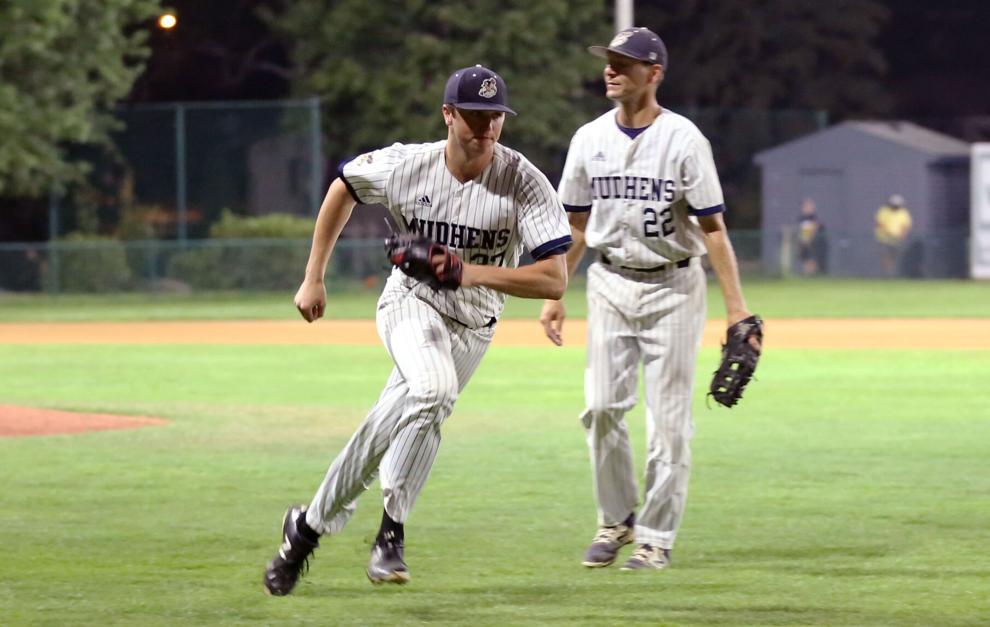 After Dundas took a 2-0 lead with that home run in the fourth, Miesville responded in the bottom of the fourth when they scored one run on an RBI-double from Brian Sprout which scored Nate Hammes. However, the momentum quickly died as the Mudhens had the bases loaded with one out after Hammes scored and failed to add any more runs.
Ruud was relieved by Justin King to start the sixth inning and that is where the game fell apart for Dundas. Max Morris hit a leadoff double which was followed by a two-run home run by Matt Van Der Bosch, who seems to thrive off of Dukes' pitching. Two batters later, Hammes hit a solo home run. Ben Vujovich then singled and came around to score on another RBI-double from Sprout, who then scored himself on an RBI-single by Joe Lango. Miesville went from down 2-1 to up 6-2 in a half inning.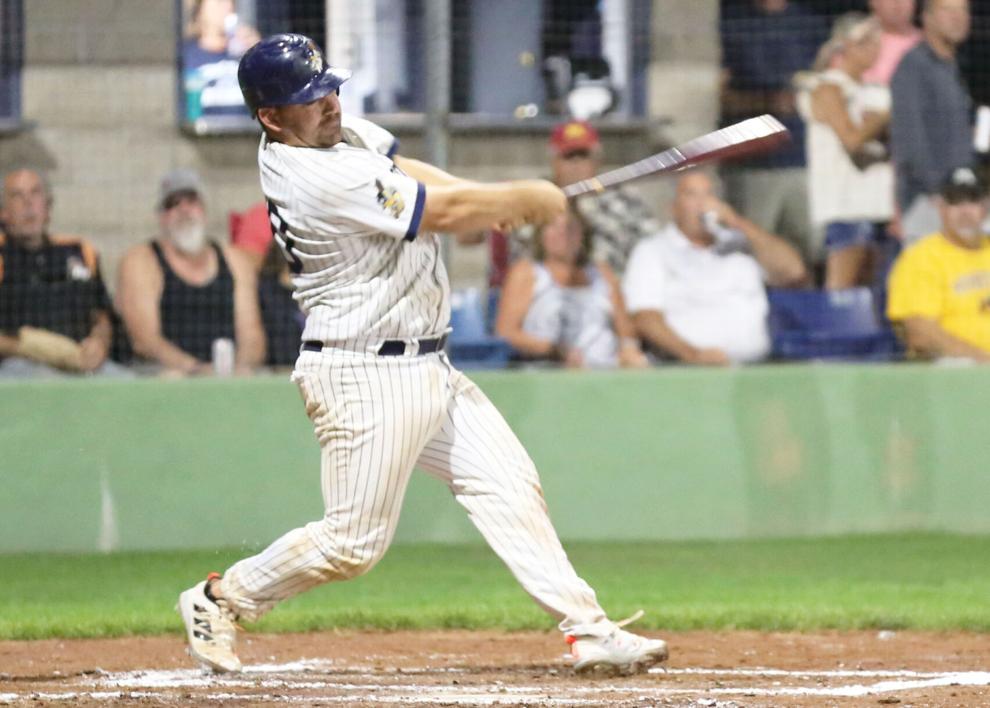 Dundas went down in order in the top of the seventh after Thomas Shogren relieved Ahern and the carousel on the bases continued for the Mudhens in the bottom of the inning. Morris once again started the scoring with a one-out walk, followed by another walk by Van Der Bosch. With two outs and two runners on, Hammes hit an RBI single to bring in Morris. Vujovich walked and Sprout hit a two-RBI single to bring in Van Der Bosch and Hammes. Lango followed with an RBI-single and Jordy Horsch finished off the scoring run with an RBI-single of his own. Miesville led 11-2 through seven innings, just one run away from the 10-run rule, which they weren't quite able to reach.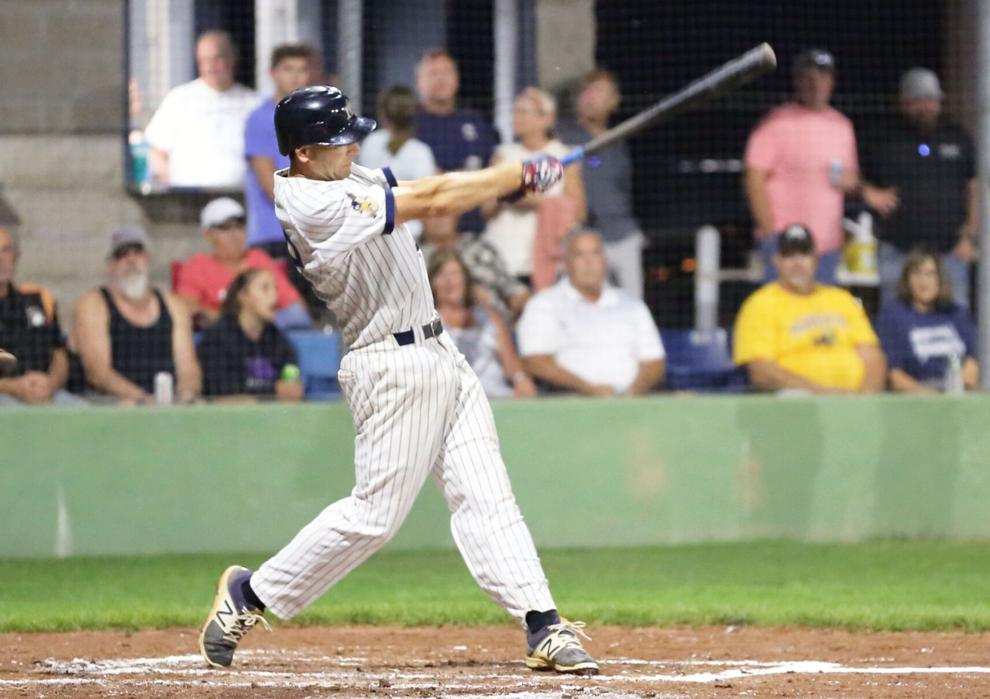 King pitched 1 ⅔ innings and was pulled in the middle of the Mudhens' seventh-inning run. He ended up with the loss where he gave up nine earned runs on seven hits and three walks with a strikeout. Mick Dudero threw the final 1 ⅓ innings and gave up the final run in the seventh on three hits. Ruud went from in line for the win to the no decision after pitching five innings where he gave up the one earned run on four hits and a hit batter. 
Shogren threw two innings of relief and allowed a hit, a walk and a hit batter along with a strikeout. Quinn Krueger pitched the ninth for Miesville and put down Dundas in order with two strikeouts. Miesville had four hitters with multiple hits -- Hammes, Vujovich, Sprout and Lango -- while all but one Mudhen in the lineup had at least one hit. Sprout went 3-for-4 with four RBIs and two runs while Hammes was 3-for-5 with a solo home run, two RBIs and three runs scored. Lango was 2-for-3 with two RBIs and Vujovich went 2-for-3 with two runs and a walk. Van Der Bosch was 1-for-4 with the two-run home run. 
For Dundas, Carson Jones was 3-for-4 with a run scored and Van Roekel was 2-for-3 with the two-run home run and was hit by a pitch.