Alisha Brown takes third in inaugural girls state tournament
Sophomore Skylar Little Soldier first made Hastings wrestling history as a seventh-grader in the 2018-2019 season when she became the first girl wrestler to record a varsity takedown, pin and win. She continued to add her name to the record books and blew those accomplishments out of the water this past weekend as she became the Raiders' first girls state champion.
Little Soldier is viewed as one of the best girl wrestlers in not just Minnesota, but the country, and for many it seemed like a foregone conclusion that she would win the 132-pound title. That expectation did not lessen the experience of wrestling in front of thousands of people at the Xcel Energy Center.
"I think it's awesome that the girls get the same chance as the boys, we're all wrestling at the same time and it's just good for them to get that feel of how big it is," she said. "It's just cool because everyone here gets to see me and hopefully girls across the state see that too and want to do it next year."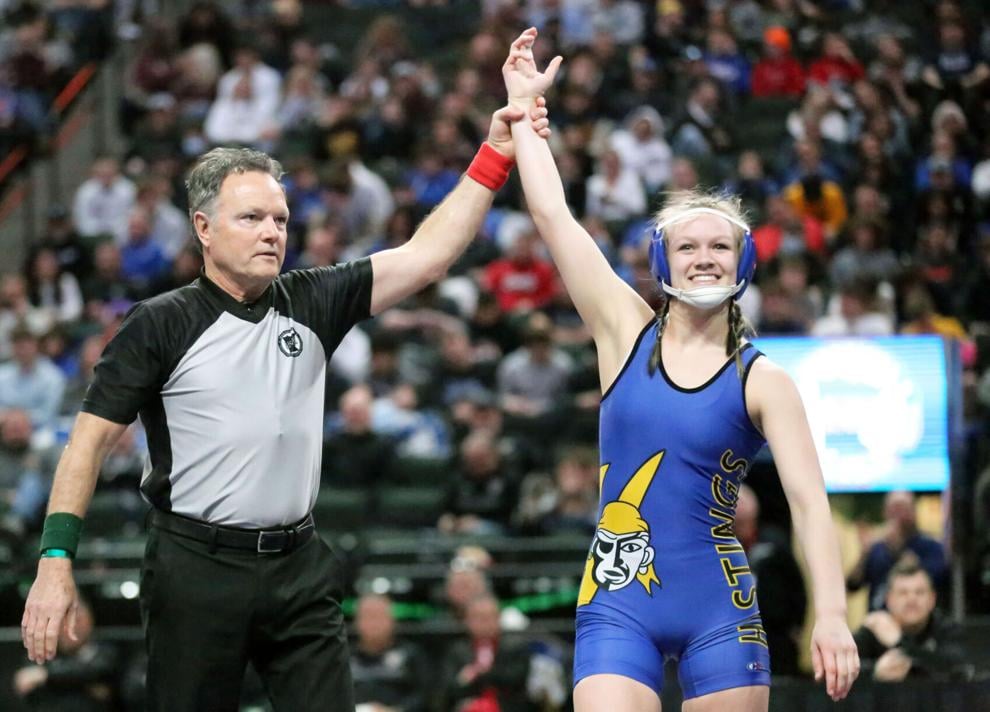 Little Soldier was joined at the inaugural Minnesota State High School League girls state wrestling tournament by senior teammate Alisha Brown, who made history of her own as the first Hastings wrestler to place at the girls state tournament when she finished third at 126.
"I was like 'no way, no way that just happened'," Brown said about what went through her head after pinning her opponent in the third-place match. "(I'm) still kind of like 'woah'. It feels, I don't even know how to describe it. I've only been wrestling for like three months, it's crazy."
The top four girls in the state in each weight class – the first and second-place winners from the two section tournaments – qualified for the state tournament and wrestled on the second day of individual state meet. Two semifinal matches were held with the winners wrestling for the championship and losers going for third.
Brown lost her semifinal match to Joel Makeem of Shakopee by tech fall (15-0) but then pinned Jaden Ruegsegger of Centennial in 1 minute, 45 seconds in the third-place match.
Little Soldier pinned Alley Altringer of Anoka in 5 minutes during her semifinal match and then got the pin fall in 1:42 over Kyle Donat of Bemidji in the championship.
Brown said there was a definite difference between the two matches she wrestled as she adjusted to the bright lights and the crowd.
"Well it was a little overwhelming, but honestly it's almost like any other match, when you get in there it's just you and that girl," she said. "I felt way more prepared than I did for the first match, I was less nervous since I already had the first match and I already wrestled the girl at sections so I knew what to look for and what she was going to do."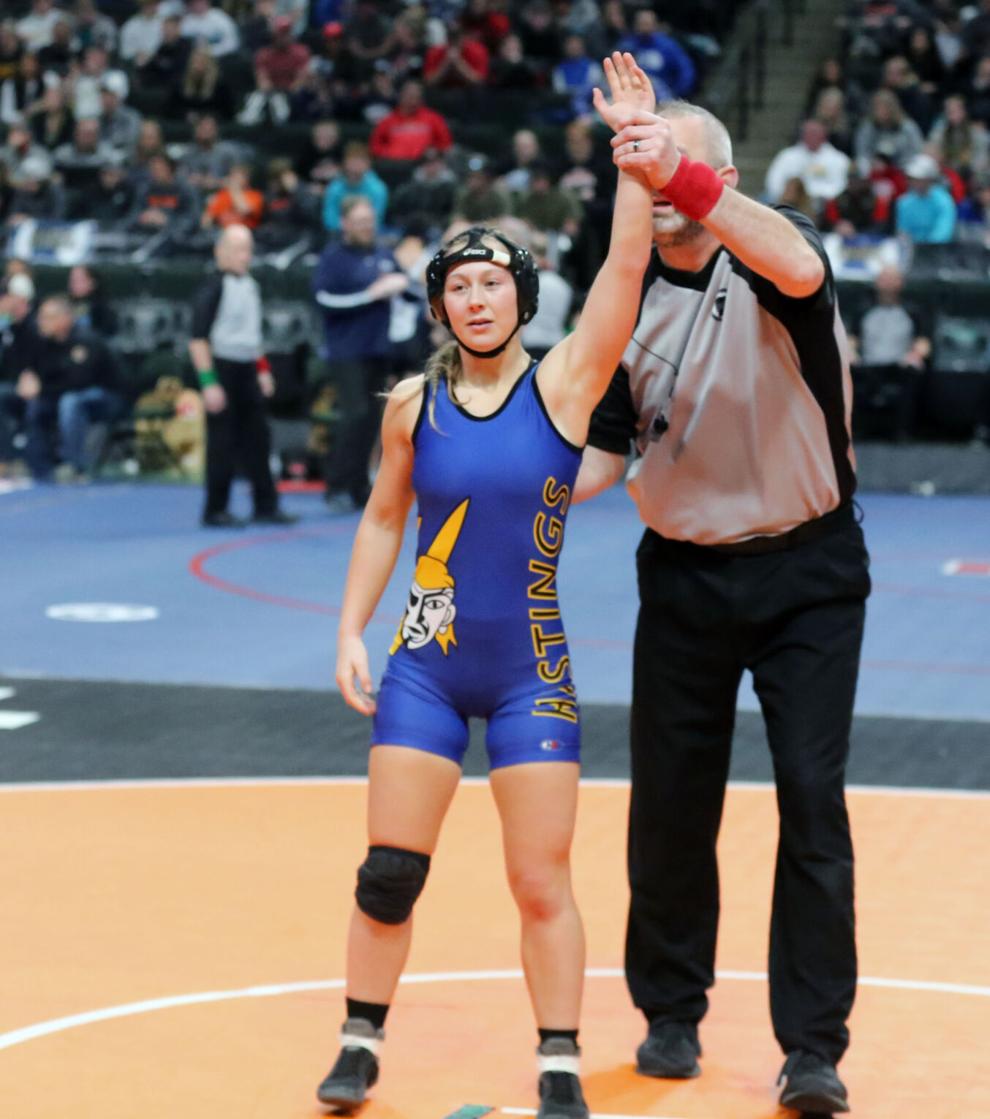 For Little Soldier, who has wrestled since she was five-years-old after attending one of her little brother's practices, the opportunity to make more history almost did not take place. 
"(The boys wrestlers) actually were begging me most of the year to be on the team," she said. "I wasn't going to do high school at all this year actually, but I had coach (Tim) Haneberg change my mind. I just wanted to be that first girls state champion for Hastings."
Little Soldier has made a name for herself on the club wrestling circuit and for USA wrestling and is nationally ranked.
Both wrestlers had advice for young girls, or even girls who are currently in high school, who may be considering going out for wrestling. 
"Just try to enjoy it, have fun," Little Soldier said. "You don't have to try and be the best, as long as you're having fun with it, it's good."
"I would say do it, it's worth it," Brown added. "Honestly it's a lot of commitment, way more than I ever expected it to be, but the outcome of it, you get out what you put in. The harder you try, the more you'll see results."
Going forward, Little Soldier said the next big goal is to make the world team in May down in Texas. For Brown, she is a senior and is currently considering if she'd like to continue wrestling in college if the opportunity presents itself. This was her first year wrestling ever.