Hastings Raiders wrestling went toe-to-toe with the top-ranked in Class AA Simley Spartans Thursday night and gave the Spartans everything they could handle. While the result was a 35-30 loss for the Raiders, who are ranked No. 8 in Class AAA themselves, they showed they can challenge the best that Minnesota has to offer. It was Hastings' best result against Simley in years.
"Probably four or five years," said head coach Tim Haneberg on how long it has been since Hastings wrestled Simley so close. "We had a stretch there for about three years in a row where we were very, very close to beating them. Tonight I thought we had a small chance to beat them, they're a very good team, obviously. There were a couple toss-up matches in there, if we could have got an upset in a couple. At the end if you look at the score, we wrestled our butts off all night long."
Trey Beissel fell by a 6-0 decision at 106 pounds to Austin Gryzwinski to start off the duel and then came the most electric match of the night. Hastings' Blake Beissel, ranked No. 1 at 106 in AAA, went to triple overtime against Brandon Morvari, the top-ranked 106 wrestler in AA, at 113 and pinned Morvari in 7 minutes, 56 seconds, during triple overtime. Hastings led 6-3.
At 120, Mark Svoboda held on against the No. 2 wrestler at 120 in AA, Peyton Spychalla, and lost by just a 7-1 decision. Svoboda was one of several Raiders who fought and saved their team points by not getting pinned. 
"I thought maybe, 106 was a bit of a toss-up match and we ended up losing that one. But for the most part, the matches that we were not favored in, we battled very, very hard," Haneberg said about how he expected the duel to go. "Mark Svoboda against one of the better kids in the state, he keeps it to a decision. Then at 145, we got majored there against a very tough kid, and then at 170, Ian Pepple, wrestles and gets a late takedown and the kid wins just by a major decision, the kid is ranked No. 1 or No. 2 in the state. We talk about it all the time, saving points and getting bonus points."
Jack Bainbridge (No. 10 in AAA at 126) beat JJ Salas by a 7-2 decision at 126 to give Hastings a 9-6 advantage. That would be the last point at which the Raiders would lead. 
Hastings dropped the next three matches at 132, 138 and 145 as the Spartans built their lead to 21-9. However, the Raiders made a comeback by winning the next two matches. Aiden Erickson beat Vristol Short by a 5-0 decision at 152 and Zander Hallis pinned Danny Martin in 5:40 at 160 to cut the deficit to 21-18 Simley. 
Ian Pepple lost at 170 to Travis Smith by a 14-6 major decision but Rico Cooper pinned Brent Holzom in 5:46 at 182 to make it 25-24 Spartans.
Simley proceeded to win the next two matches to put the duel out of reach. Blake Clemons received a forfeit at 285 for Hastings and 35-30 was the final. 
The Raiders travel to Bloomington Kennedy for a tournament on Saturday, Jan. 22, and then host a triangular with Prescott and Centennial on Thursday, Jan. 27. That night is also Alumni Night and Haneberg said they are expecting almost 100 Hastings wrestling alumni to be there.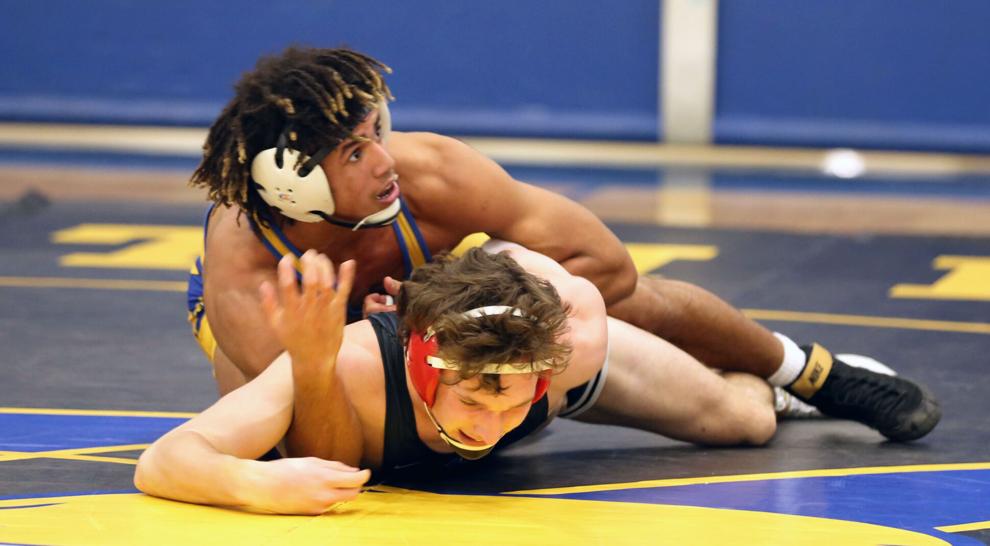 Below are full results for the duel:
106: Trey Beissel (Hastings) lost to Austin Gryzwinski (Simley) by a 6-0 decision. 3-0 Simley
113: Blake Beissel (Hastings) beat Brandon Morvari (Simley) by pin fall in 7:56 (3OT). 6-3 Hastings
120: Mark Svoboda (Hastings) lost to Peyton Spychalla (Simley) by a 7-1 decision. 6-6 Tie
126: Jack Bainbridge (Hastings) beat JJ Salas (Simley) by a 7-2 decision. 9-6 Hastings
132: Peyton Erickson (Hastings) lost to Kaiden Schrandt (Simley) by tech fall (17-2). 11-9 Simley
138: Creed Peterson (Hastings) lost to Chase DeBlaere (Simley) by fall in 1:29. 17-9 Simley
145: Josh Route (Hastings) lost to Cash Raymond (Simley) by an 11-3 major decision. 21-9 Simley
152: Aiden Erickson (Hastings) beat Vristol Short (Simley) by a 5-0 decision. 21-12 Simley
160: Zander Hallis (Hastings) beat Danny Martin (Simley) by pin fall in 5:40. 21-18 Simley
170: Ian Pepple (Hastings) lost to Travis Smith (Simley) by a 14-6 major decision. 25-18 Simley
182: Rico Cooper (Hastings) beat Brent Holzem (Simley) by pin fall in 5:46. 25-24 Simley
195: Dylan Bartz (Hastings) lost to Soren Herzog (Simley) by pin fall in 49 seconds. 31-24 Simley
220: Austin Leflay (Hastings) lost to Gavin Nelson (Simley) by a 14-2 major decision. 35-24 Simley
285: Blake Clemons (Hastings) received a forfeit. 35-30 Simley