The Hastings Raiders wrestling team will wrestle for fifth this evening after going 1-1 in its first two duals. The No. 4-seeded Raiders lost to No. 5 Anoka in the first round 41-27 and dropped into the consolation bracket. They wrestled right away again and beat unseeded Apple Valley 36-20 to advance to the fifth-place match against Northfield, who is also unseeded.
The Raiders started the day off strong, winning the first four weights against Anoka to lead 15-0. However, they needed pins at those weights as Anoka responded by winning the next six matches, including four pin falls to take a 32-15 lead. From there, Hastings needed to win the last four weight classes with at least two pins, but were unable to make the comeback.
Hastings matched up much better with the Apple Valley Eagles in the consolation semifinals. The two teams split the first six matches for a 13-13 tie before the Raiders won six of the final eight bouts, sealing their victory after the 195-pound match.
Hastings wrestles Northfield at 5 p.m. The two teams met back on Dec. 11 and Hastings won 52-14. However, Northfield forfeited the upper three weights in the dual.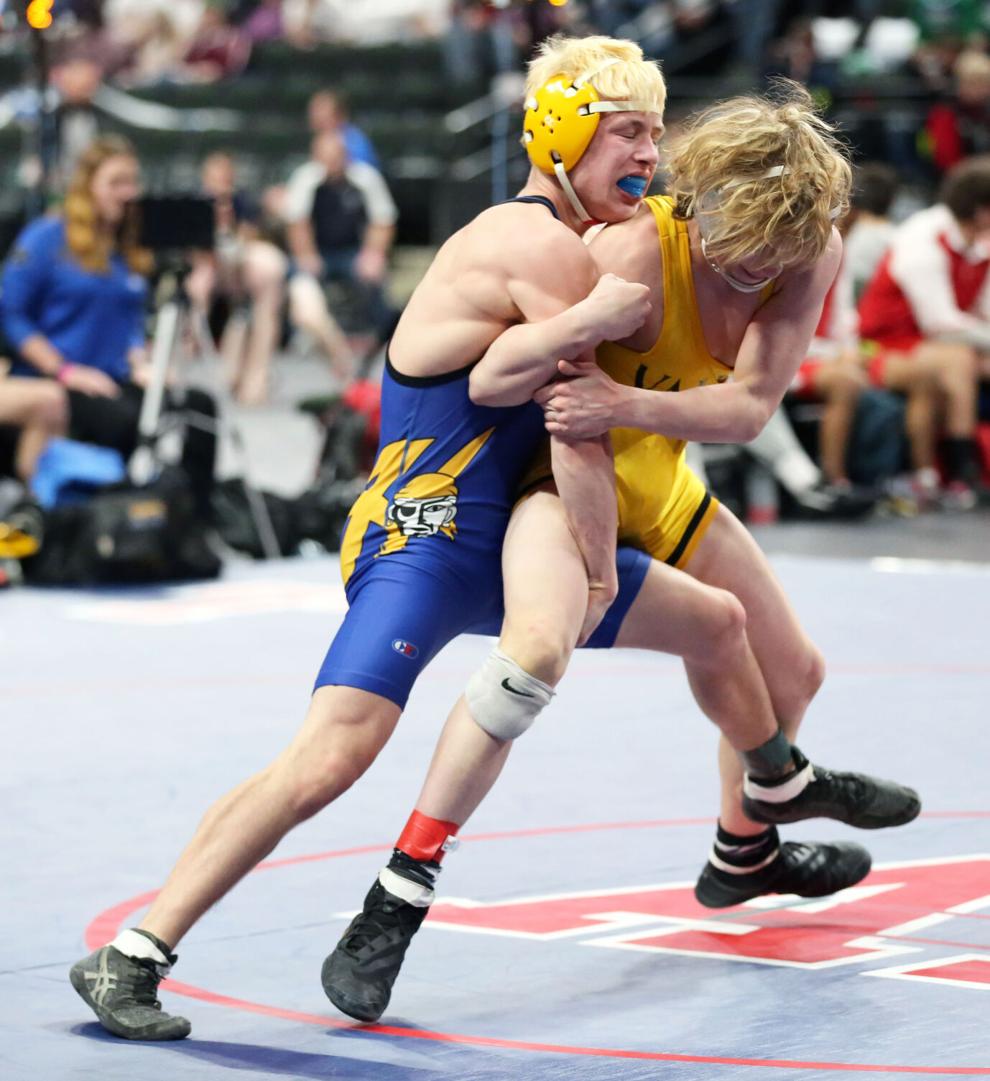 Below are full results for the two duals so far:
Hastings 27, Anoka 41
106: Trey Beissel (Hastings) beat Gabrielle Bragg (Anoka) by a 5-0 decision. 3-0 Hastings
113: Blake Beissel (Hastings) pinned Cayden Ban (Anoka) in 3 minutes, 15 seconds. 9-0 Hastings
120: Mark Svoboda (Hastings) beat Garrett Wittek (Anoka) by an 8-2 decision. 12-0 Hastings
126: Jack Bainbridge (Hastings) beat Austin West (Anoka) by an 11-5 decision. 15-0 Hastings
132: Peyton Erickson (Hastings) was pinned by Elijah Paulson (Anoka) in 45 seconds. 15-6 Hastings
138: Creed Peterson (Hastings) was pinned by Carter Ban (Anoka) in 3:23. 15-12 Hastings
145: Josh Route (Hastings) lost to Brendan Howes (Anoka) by a 22-8 major decision. 16-15 Anoka
152: Fletcher Peterson (Hastings) was pinned by Jacob Whitaker (Anoka) in 2:36. 22-15 Anoka
160: Aiden Erickson (Hastings) was pinned by Logan Jungling (Anoka) in 5:28. 28-15 Anoka
170: Ian Pepple (Hastings) lost to Noah Torgerson (Anoka) by an 11-1 major decision. 32-15 Anoka
182: Rico Cooper (Hastings) pinned Luke DeChene (Anoka) in 5:41. 32-21 Anoka
195: Tyler Miller (Hastings) was pinned by Jaden Burandt (Anoka) in 1:25. 38-21 Anoka
220: Dylan Bartz (Hastings) lost to Sean Jordan (Anoka) by a 5-0 decision. 41-21 Anoka
285: Blake Clemons (Hastings) pinned Zachary St. Jean (Anoka) in 3:33. 41-27 Anoka
Hastings 36, Apple Valley 20
106: Blake Beissel (Hastings) beat Louis Prouty (AV) by a 12-2 major decision. 4-0 Hastings
113: Trey Beissel (Hastings) lost to Austin Laudenbach (AV) by a 12-2 major decision. 4-4 Tie
120: Mark Svoboda (Hastings) lost to Keiichi Kong (AV) by a 14-4 major decision. 8-4 Apple Valley
126: Jack Bainbridge (Hastings) beat Tyler Laudenbach (AV) by a 5-2 decision. 8-7 Apple Valley
132: Peyton Erickson (Hastings) lost to Jayden Haueter (AV) by tech fall (15-0). 13-7 Apple Valley
138: Creed Peterson (Hastings) pinned Ian Haueter (AV) in 5:15. 13-13 Tie
145: Josh Route (Hastings) beat Parker Elliott (AV) by a 5-1 decision. 16-13 Hastings
152: Aiden Erickson (Hastings) beat Travis Bender (AV) by a 13-0 major decision. 20-13 Hastings
160: Derrick Steinke (Hastings) lost to Marcell Booth (AV) by a 14-2 major decision. 20-17 Hastings
170: Zander Hallis (Hastings) beat Max Elliott (AV) by an 8-4 decision. 23-17 Hastings
182: Ian Pepple (Hastings) beat AJ Garcia (AV) by a 10-3 decision. 26-17 Hastings
195: Rico Cooper (Hastings) beat Parker Muth (AV) by a 15-4 major decision. 30-17 Hastings
220: Austin Leflay (Hastings) lost to Conner Elliott (AV) by a 10-7 decision. 30-20 Hastings
285: Blake Clemons (Hastings) pinned Jalen Burke (AV) in 1:36. 36-20 Hastings