The Hastings wrestling program is sending four wrestlers to the state girls wrestling tournament, led by junior Skylar Little Soldier who will defend her title from last year.
Little Soldier was the Raiders' lone champion at 145 pounds after receiving a first-round bye and pinning her other two opponents, both in the first period. She is the defending girls state champion at 132 after winning the title last March. 
Taking second and also advancing to state were freshman Ivy Brandenburg (100), sophomore Annabel Norquist (126) and senior Isabel Fritz (185).
Little Soldier
Little Soldier almost did not wrestle for the Raiders this season.
"I mean I came back, I was gonna do the OTC, I actually decided I wanted to come back and do the high school season," she said. "With it (girls wrestling) growing in Hastings so much, I wanted to be here."
While Hastings had just a handful of girl wrestlers last year, that number exploded this season.
"We had around 20 girls at the beginning of the year, it kind of tapered out and we got to like 15, but they even had to have wrestle-offs to decide who got to wrestle sections," Little Soldier explained. 
She added that her only goal for this season was to win another state championship for Hastings, and then win her third next year. 
The growth of girls wrestling in Minnesota, as well as across the country, has been exponential. According to FloWrestling, girls high school wrestling participation increased an average of 46% for the 2022-2023 season across all states. 
"We actually had a dual last week against STMA (St. Michael-Albertville), last Friday, our girls against theirs, we both basically had full lineups, I think they just had one forfeit. It was fun," Little Soldier said. 
After receiving a first-round bye, Little Soldier pinned Julz Frederick of St. Croix Lutheran in 1 minute, 21 seconds in the semifinals and then also pinned Alaina Franco of Centennial in 1:12 for the section championship. 
State bound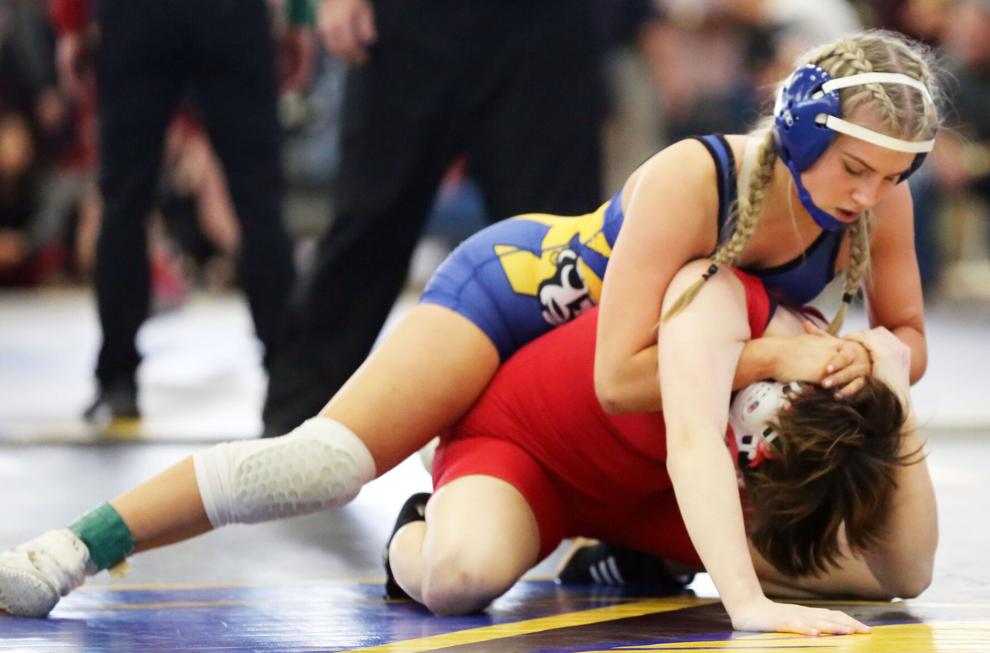 It is the first state tournament trip for Brandenburg, Norquist and Fritz. Norquist was the only wrestler of the trio who competed in last year's girls section tournament where she took sixth.
Brandenburg went 2-1 in her three matches, not including the no-contest that was the result of no true second match. She beat Vivian Diaz of South St. Paul by a 3-2 decision in the quarterfinal and Ana Kos of Simley by a 9-1 major decision in the semifinal. During the championship, she was pinned by Bianca Eide of Stillwater Area in 13 seconds. 
Norquist also went 2-1, winning her quarterfinal by pin in 1:41 over Kyra Viesselman of East Ridge followed by a 10-8 decision over Lucy Dropps of Centennial in the semifinal. She was pinned by Amelia Converse of St. Croix Lutheran in 2:54 during the championship and did not have to wrestle a true second match. 
Fritz received a bye in the quarterfinal and then went 2-1 after. She pinned Jordan Melde of St. Croix Lutheran in the semifinal in 1:06 and lost to Chae Nay Htoo of St. Paul Humboldt/Open World Learning by a 6-5 decision. Fritz was the only one of the trio to face a true second match where she beat Hazel Bendix of Irondale/Spring Lake Park/St. Anthony Village by an 8-3 decision to retain second place. 
The top two wrestlers in each weight class move on to the state tournament. Last year, two section tournaments were held at two sites in Minnesota, resulting in four-wrestler brackets for each weight class. This year, the format has expanded as four section tournaments were held (still at two sites), so there will be eight girls in each bracket this year. 
Sophomores Allison Weinzettel (114), Gavyn Hanson (120) Lauren Whitfield (138) and Amelia Miller (152) all came close but ended up third. All four won their third-place matches but then fell in wrestlebacks for second. Weinzettel also took third last year in the section tournament while Miller and Whitfield each took fifth last season.