The end of an era came Oct. 27 when Nick Tuckner, the Voice of the Raiders, announced he was stepping down from his position as sports director at KDWA radio after just shy of 20 years. 
Most affectionately known across eastern Minnesota and western Wisconsin as "Tuck," Tuckner served as the play-by-play announcer for Hastings Raiders and Prescott Cardinals sports year-round, on top of the occasional forays into Cottage Grove, Rosemount and the surrounding area.
Ever since his announcement, tributes have flooded in for Tuckner from across Minnesota, including Jace Frederick at the Pioneer Press and John Millea with the Minnesota State High School League.
"Nothing short of overwhelming," Tuckner said about the week after he made his departure public. "Just because, I think that for the last 19 and a half years, we did something right. As the week and change has moved forward since I made the announcement, with everybody reaching out, the thank yous and all this other crazy stuff, no matter how humble you try to be you have to eventually realize that you made an impact."
For someone who has always made everything about the athletes, coaches and fans, Tuckner said it can be tough after all these years to accept the accolades and honors the Hastings community has bestowed upon him. He said that hearing from people who say he's impacted their life has been overwhelming -- in a good way.
Tuckner is married to his wife, Erica, and they have a young son, Dallas. It was for their benefit that Tuckner decided it was time for a new direction.
"This was all about bettering my family's life and giving back to them after Erica's sacrificed with me for 17 years and Dallas all 7 years of his life. All he's known is Daddy sacrificing something, whether it's time or a bedtime hug or kiss," he said. "I missed way too many of those particular instances. It wasn't anything I did lightly. It took a lot of thought, a lot of care. I knew that what I did was making an impact in the community."
Tuckner, who is 41, bleeds blue and gold. He graduated from Hastings High School in 1999 and attended Inver Hills Community College for two years. After that, he started delivering pizzas for Pizza Man in Hastings while serving as color commentator with KDWA for Hastings girls hockey.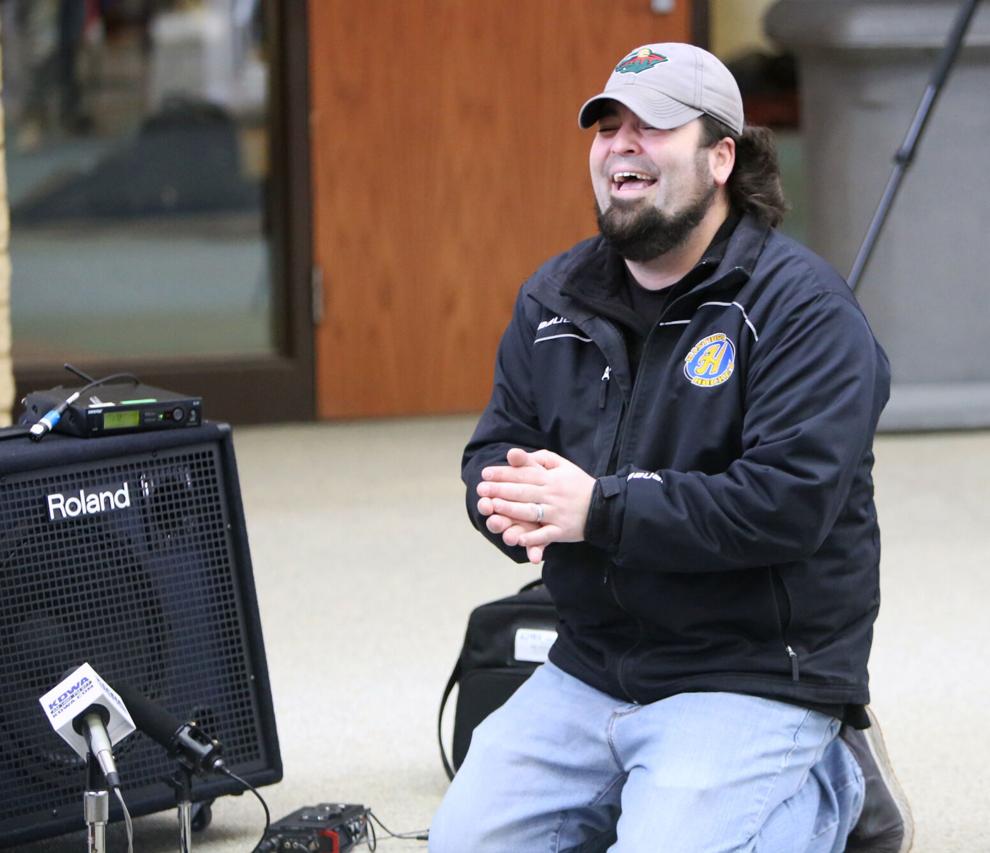 Tuckner was on a visit to Brown College, about to walk into an interview to enroll and study radio broadcasting, when KDWA owner Dan Massman called him with an opening for a sports director. Tuckner accepted and in March 2002, his storied career and love affair with the Hastings community started. He singled out three people who helped mold him as a broadcaster, both early on and later down the road: Dan Rowe, Dave Osberg and Gerry Rupp. 
"This is easy, the late Dan Rowe, the longtime Minnesota Vikings play-by-play announcer was the voice of Raider football when I arrived," Tuckner said about people who helped him along the way. "Dan Massman had Dan Rowe come in and talk to me a few times a week for the first few weeks of my job. To have the guy who I grew up with describing Viking football games on the radio, who I listened to my whole life in front of me and asking me what questions I wanted to ask, or what he could help me with. That was the coolest thing in the world."
Tuckner said that Rowe helped instill in him a sense of professionalism, taught him the importance of preparation and was a critical part of the enthusiasm he brings for every single game, match or meet. 
"Being around Dan, even going from the pros to high school, he still made broadcasts seem like it was the Super Bowl or the NBA Finals," he said. "I think I learned a lot of how I did my job making what the kids were doing the most important thing out there every time they hit the ice or field, I learned that from Dan."
Former Hastings City Administrator Dave Osberg was Tuckner's football color commentator for a decade. Tuckner said Osberg helped him deal with just the variety of situations that come up along with the good and the bad, as well as helping him "be a pro." 
Then there is Gerry Rupp, Raider head boys swimming and diving coach and football color commentator to this day.
"The guy always points me in the right direction," Tuckner said. "If I get too excited on the air, Gerry is always there to redirect me in the right frame of mind and the right line I should be talking and walking."
Those who have been in the press box with Tuckner and Rupp during games know that keeping Tuck on an even keel is no easy task.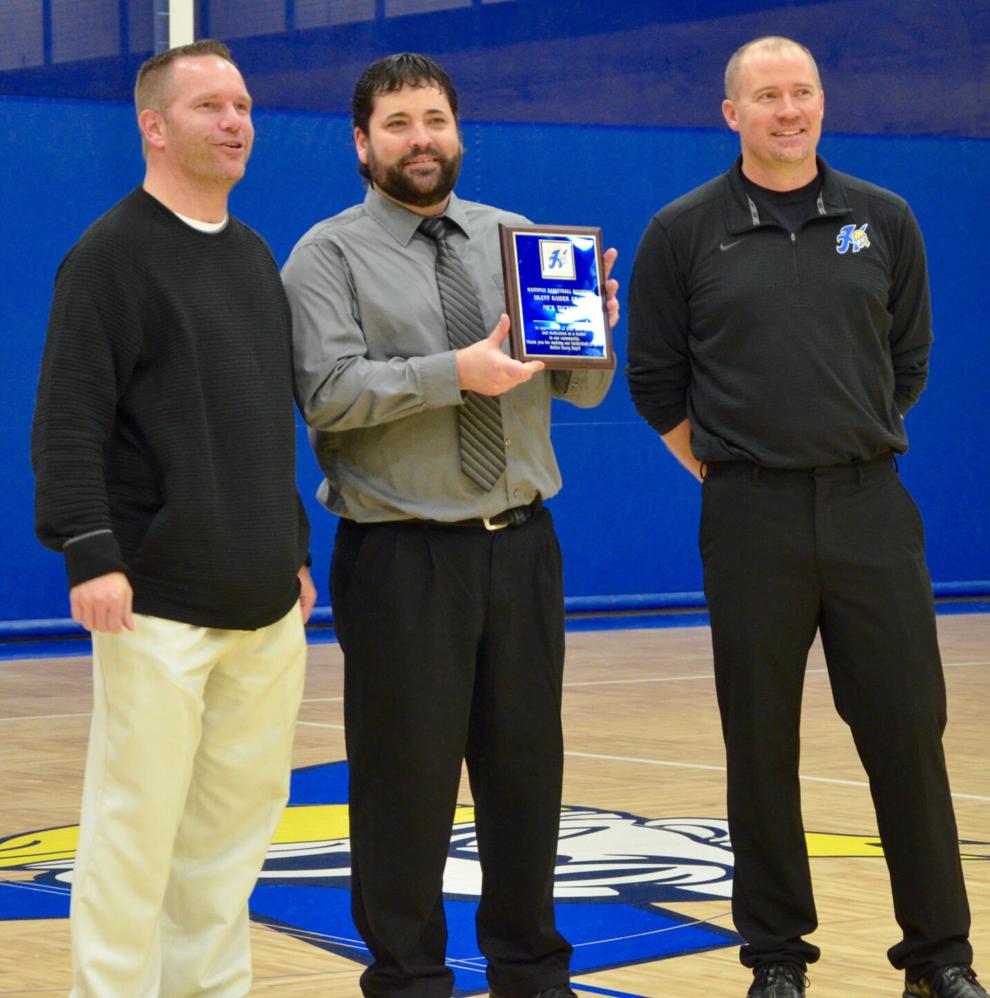 Looking back over the last two decades, Tuckner has witnessed some of the greatest moments in Hastings Raider history. However, it's some of the smaller moments that stood out the most to him.
In his first summer on the job, he traveled to Arlington, Minnesota, to cover Hastings American Legion baseball. It was a sweltering day, and someone offered to get Tuckner a bottle of water, which he gratefully accepted. All of a sudden, he feels something on the back of his head.
"I thought it was like a droplet of water from a water bottle or something, so I put my hand up and all of a sudden I got pecked on the hand!" he said. "There is a pigeon in the press box and it's trying to attack me. I screamed as loud as I could and I swore on the radio, I thought my career was over as soon as I said it. It was in there for a little bit and the scoreboard guy was laughing at me, the PA guy was laughing at me, the water person was coming up, laughing at me. It finally escaped the press box and it was seamless, it went from me being attacked by a bird, in hysterics, to a swing and a ground ball to first."
Then a couple of years ago, the Raiders boys hockey team traveled to nemesis St. Thomas Academy and beat the Cadets.
"That was one that turned me into a teary mess," Tuckner said. "And then the team invites me down afterward to basically have a dance party with all of them as they're celebrating. Talk about feeling part of the team . . . When kids tell a 40-year-old guy to come down and celebrate with them, you better not say no. That was one of my most memorable evenings as the Raider radio guy, that chilly, snowy night when we were up in St. Thomas."
Tuckner grew emotional later in the conversation when talking about what he learned the past 20 years and the Hastings community's acceptance of him.
"If you're good to people, if you treat them the way you want to be treated and then some, even a little extra and you make sure nobody is ever left out," he said. "There could be a kid who's on the bench, or a kid who doesn't play a lot, you always find a way to incorporate them into the game, too. Everybody is so important. I don't care if it's an athlete, a teacher, a coach, a referee, a fan, everybody is important . . . It's OK to be good to one another. It's OK to love each other. It's OK to show love for each other."
He emphasized that the smallest gesture can make all of the difference. 
"If you just take a step back and smile, or say thank you, or hold a door, or give somebody a compliment, whether they need it or not. One person can change lives," Tuckner continued. "I'm not saying I did, but that's what I learned. You could be the biggest nerd in the world like I am, but if you're a good person and you make people feel good and wanted and part of something, they're going to adopt you right back. And that's what happened here."
As we finished our conversation, Tuckner had some advice for whoever ends up replacing him at KDWA.
"Be real, be real. If you're fake, this community will read right through you. You cannot be fake, you need to be you," he said. "Don't make yourself something you're not. If you have passion for this job, or you develop passion for this job, it's going to be because of the kids and the coaches, because of the fans who say thank you. It's all about them."
Tuckner's next phase in life takes him across the river to another community that has adopted him: Prescott. He started there at Cernohous Chevrolet on Nov. 15 doing what he does best -- connecting with people. Tuckner made sure to emphasize that Raiders fans will still see him around Hastings and at games, just not every single one with a headset on.