The twilight of summertime brings many things to the state of Minnesota. The dog days of summer coincide with cabin getaways, music festivals, the Minnesota State Fair, and of course, the kick off of the high school football season. 
It's time for the Hastings Raiders football team to strap on the shoulder pads, lace up the cleats and don the blue and yellow uniforms as practices are now underway. 
The Raiders are coming off of a solid 7-3 season, their best overall finish since the 2018-19 season when they went 8-2. They entered the sectional playoffs with a bye before notching a win versus Kennedy and ultimately falling to the perennial powerhouse St. Thomas Academy Cadets in the section finals.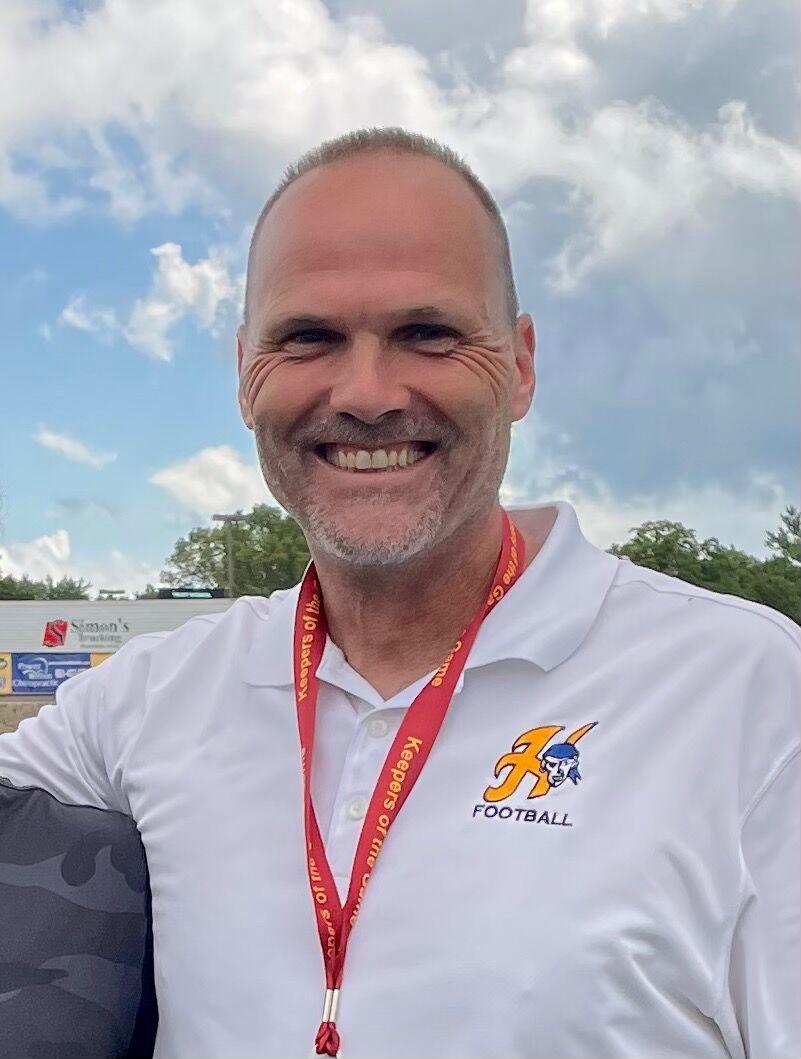 Raiders head coach Dana Strain is hoping to build off of last season's success. Strain played safety in college at University of Wisconsin-Eau Claire before beginning his coaching career with them. 
He cut his teeth as an assistant coach for UW-Eau Claire for six years before deciding he wanted to coach at the high school level.
Strain entered the high school arena in Green Bay, Wisconsin, as the defensive coordinator and assistant varsity coach at Ashwaubenon High School. He stayed there for eight years, helping lead them to three state championships and three semi-final berths. 
Wanting to return closer to his hometown of Hager City, Wisconsin, and desiring to be a head coach, Strain started looking for a position. When the Hastings job became available, Strain lept at the opportunity, and he has been the man in charge here since 2007.
Now, he is tasked with getting the Raiders over the hump after their promising 2021 season. One of the strengths for this year's team will be its experience, and Strain wants to build off of his returning starters.
From his experience, Strain knows the value of roster continuity. In past years, when the Raiders only had two or three returning starters, it was harder for them to win games. This year, Strain and the Raiders will boast a strong veteran core. 
 "So we had a really good year last year, in large part, because we had a really good senior class, but we also had a good junior class. So, for as many as we graduated, we still have, on both sides of the football, about five or six guys you can say are returning starters and that's a pretty good number at the high school level," Strain said.
Not only are these returning starters experienced players, but they were also difference-makers for the Raiders.
"The thing that we really want to accentuate is our strength. We've got five or six guys returning on each side, they're not just guys that played, they're impactful guys. So we're not just bringing back guys that were starting to plug holes," Strain said.
A new signal caller will be taking over the reins of the Raiders offense, filling the shoes of 2022 graduate Axel Arnold. Along with Arnold, the Raiders lost a few other prominent pieces to their offense, most notably wide receiver Stephen Reifenberger and tailback Brenden Freiermuth. 
Despite losing those key players, Strain still envisions his team fielding a potent offensive arsenal this fall.
"We're usually about 65/35 run-pass, that's about where we end up at the end of the year, but we do have a pretty robust passing game. In the years that we got the kids that can do it, like last year, we had an exceptional year throwing the football. We had a quarterback last year in Axel Arnold that I think had 17 touchdowns and four ints, and that ratio is elite. He had a lot of weapons, and we graduated some of them, but we have a few coming back, so we'll probably end up being that type of team again," Strain said.
On the offensive side of the football, he highlighted wide receivers Johnny Bezdicek and Rico Cooper, and tailback Payton Burrow, as weapons the Raiders will once again wield on the gridiron.
"So like Johnny Bezdicek is one of our returning starters and Rico Cooper. Johnny Bez was a state place runner in the state 200 and the 100 so he's a burner. We've got a tailback, Payton Burow, that's a good running back, and he was our starter last year," Strain said.
Strain expects that the front seven of the Raiders defense will be a strong unit again this year. They will be bringing back their starting run-stopping nose guard and both of their starters on the edge. 
 "Pacer Ruble is going to be our big guy up front that has started. Tom Kennedy and Thomas Reifenberger were both starters for us at outside linebacker, and again, they weren't just guys, they were pretty good players," Strain said.
The trenches on the offensive side of the ball does not boast as much experience as the defensive line does, so Strain said that acclimating the new crop of offensive lineman is a point of emphasis for the Raiders as they prepare for the regular season. 
"One of the things that we need to work on is the spots where we don't have the returning starters, now one area for that is up front, on both sides of the ball. We've got one returning starter on the offensive line, and we've got basically one returning starter, maybe two, on that interior three, so we're probably healthier on the defensive side with returners and known commodities," Strain said. 
Getting reps for these new starters is a top priority for Strain and his coaching staff. So far, they have been satisfied with the work the Raiders have been putting in during this first week of practice.
"We've been pretty happy in our first week, it was a little bit of an unknown for us, but we've got enough bodies and that just takes time for that group to come together and then we've got to see once we start getting physical next week, who can stand in defensively and who can move some people out, so that's going to be the big thing for us is how soon that comes along," Strain said.
As per Minnesota State High School Football rules, contact is prohibited in the first week of practice, so Strain and the coaching staff have yet to see where the Raiders stand physically. They will be scrimmaging Park High School on Aug. 27, which should give the Raiders a better idea of where they need to improve before their first regular season matchup with Chanhassen on Sept. 1.
 Strain is anticipating a tough contest with Chanhassen, but he is looking forward to the early season test they will pose.
"They're out there in one of the toughest sections with Chaska. Just an excellent high school football team. They're very sound, they've got the ability to throw it, but they're physical, they've got a lot of numbers, so a pretty traditional looking football team, but also enough of a pro style offense that it's not just line up in wing-T or option and pound it. They've got some versatility, very well-rounded, extremely well-coached, and they've got a talented roster, so it's going to be a good challenge," Strain said.
He added: "They got us last year like 28-7 in our first game, and we improved a lot from there, but we'd like to hit the ground running a little bit more quickly and smoothly this year."
Getting off to a fast start would be a huge boon for the Raiders squad, as they will face the vaunted St. Thomas Academy, who comes in at No. 5 on MaxPreps preseason rankings, in week four of the regular season.