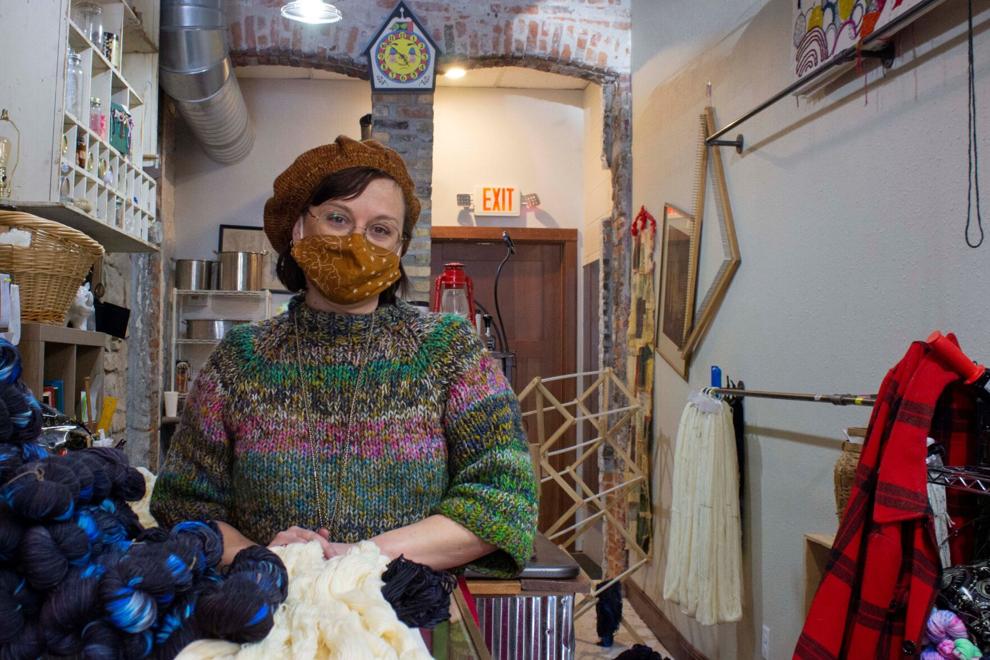 Tucked away in downtown Hastings lies a narrow shop filled with colorful yarn and unique crocheted clothing.
Its stone and brick-lined walls combined with the rainbow of assorted yarn make for a cozy atmosphere inside MUSE2320 Fiber Co.
"We're like this little hidden nook here in downtown," owner Sara Lawrence said.
Lawrence is a fiber artist who opened her shop in 2018 to sell her hand-dyed yarn and create a community space for other fiber artists.
"We had a two-fold plan when we opened our doors: to be a social space, a teaching space but also to be a creative space for me as an artist," she said.
Lawrence said she and her husband Bob had always wanted to open their own store and provide a creative space for members of their community to connection with one another.
After running through options of businesses they could startup and seeing the need and gap for nearby yarn shops on this side of the metro area, the two created MUSE2320 Fiber Co., located at 113 E. 2nd St., Suite #103 in downtown Hastings.
"It made sense for us to do this here in our own hometown," she said.
The shop's name "Muse," meaning a source of inspiration, combined with "2320," the mileage of the Mississippi River, exemplifies intention of the shop and the community it resides in.
"Our intention was really to create a community where fiber artists could come and meet and we could host classes and just be a social hub," she said.
Since the pandemic, MUSE has had to shift away from its classes and social groups and focus more on selling Lawrence's hand-dyed yarn through MUSE's website, muse2320fiber.com
"But it still is a point of connection for fiber artists that live in the area," Lawrence said.
Even as the pandemic has had to holt classes and get-togethers, Lawrence said she hopes to get them going again soon.
MUSE has offered weaving, crocheting and knitting classes as well as social gatherings like "pints and purls" at Spiral Brewery.
Running a shop and community space for fiber artists comes natural to Lawrence as she said she comes from a family of fiber artists.
Lawrence said a lot of the women in her family were fiber artists and Lawrence learned to crochet from her grandmother when she was eight years old.
"I started out very early because I was surrounded by women who did those things," she said.
Growing up in a family of fiber artists, Lawrence said she has always been an artist at heart and besides dying yarn for her shop, Lawrence uses her crocheting and knitting skill to produce wearable art, some of which can be purchased at MUSE.
"I love the idea of wearable art, wearable pieces, pieces that tell a story," she said.
Those who stop into the shop can even likely find Lawrence wearing some of her own creations.
To learn more about MUSE2320 Fiber Co. or browse its hand-dyed yarn, visit its shop in downtown Hastings for check out its website at www.muse2320fiber.com.