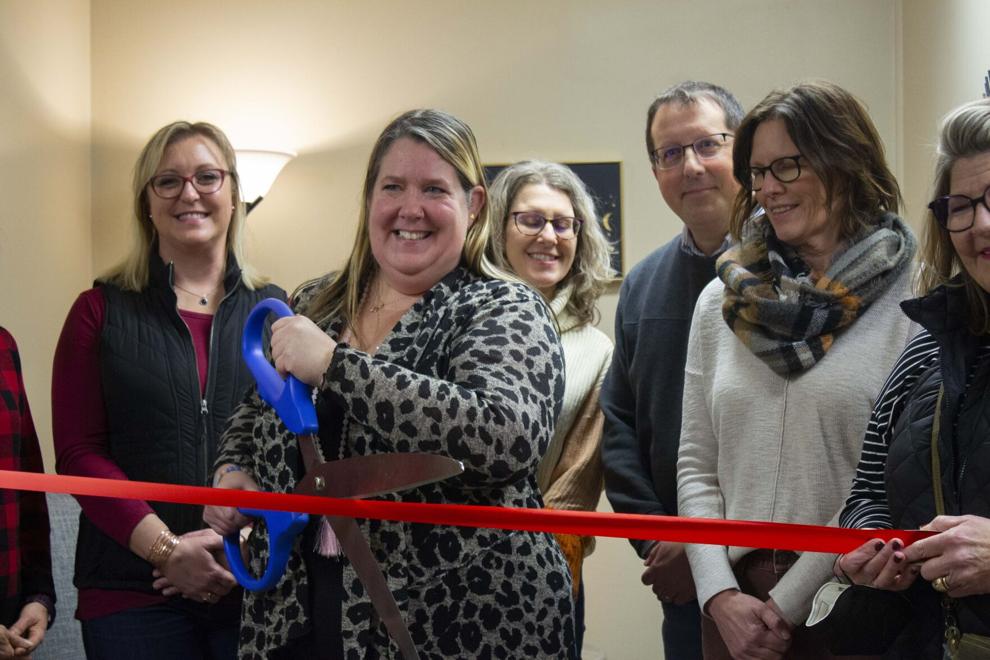 MN YOGA + Life magazine celebrated its grand opening and ribbon cutting ceremony at its Hastings office Wednesday with local leaders, chamber of commerce members and friends.
The magazine is published by Amy Zellmer, a Hastings native, practicing yoga teacher and wellness enthusiast.
Zellmer said she wants her magazine to feature stories on people in the Minnesota yoga and wellness community, as well as product reviews and wellness tips.
She also hopes MN YOGA + Life magazine brings some "feeling of togetherness back into the Minnesota yoga and wellness communities."
YOGA + Life is a national brand with individual publications in states like Colorado and New York. MN YOGA + Life magazine had previously been in production from 2014 to 2018 under a different publisher before Zellmer bought the rights to publish it.
"I met the owners Bobby and Kim … and they asked if I had any interest purchasing the Minnesota magazine," Zellmer said. "After some discussion it felt like the right fit and the right next step."
MN YOGA + Life is a bi-annual magazine with its first issue slated for April 1.
"My goal is to grow it to three time a year," Zellmer said. "But for now, it will be twice a year."
Those interested in picking up a copy of the magazine can order a subscription through MNYogaLife.com or pick up a copy at one of its partner locations, which can be found on the magazine's website.
This isn't Zellmer's first magazine either. After suffering a traumatic brain injury almost ten years ago, Zellmer started the Brain Health Magazine in 2019 to give people like herself resources on how to live their best life after a brain injury.
Zellmer still publishes that bi-monthly magazine on top of starting her newest venture with MN YOGA + Life.
Because of her interest in brain health, a portion of MN YOGA + Life's proceeds will go to LoveYourBrain Yoga, a nonprofit that improves the quality of life of people affected by traumatic brain injuries through yoga and mindfulness.
During her ribbon cutting ceremony, Zellmer emphasized that she is not opening a much-anticipated yoga studio in Hastings, though she will be hosting a yoga series this summer at the Levee Park Amphitheater.
Sunday mornings from June to August, Zellmer and guest teachers will host yoga classes along the Mississippi River.
Through her summer yoga series, Zellmer hopes it will "help support some of the downtown businesses," by bringing Hastings residents and out-of-towners to the downtown area.
Tickets cost $18 for each session and those interested can learn more about the series at www.MNYogaLife.com/summeryoga.