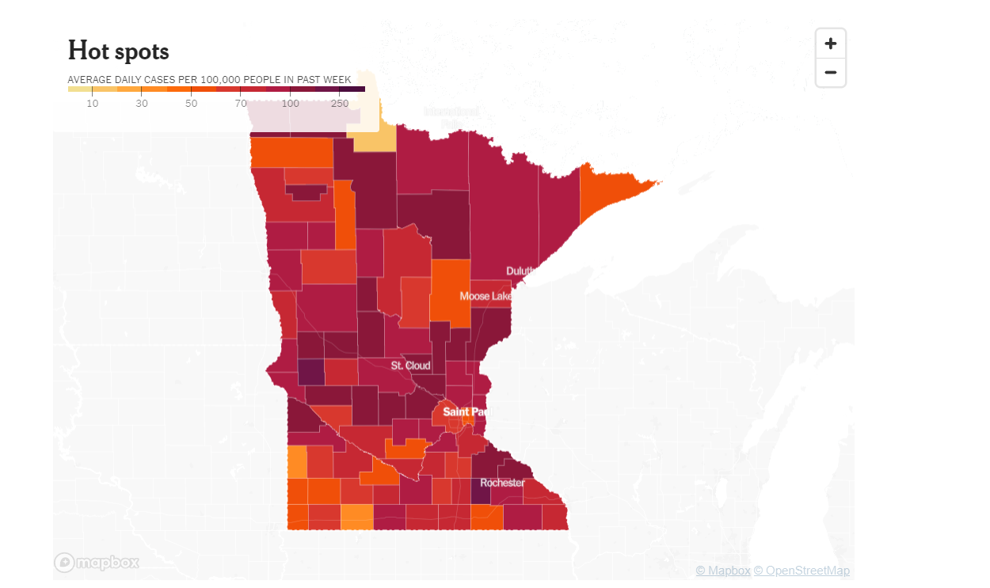 As cold weather sets in and waning immunity from vaccinations leads to more breakthrough infections, Minnesota is reporting a wave of new COVID-19 cases and hospitalizations not seen since December of last year
The state recently reached a seven-day average test positivity rate of 10.5 percent, putting Minnesota in the high-risk threshold for the first time since Dec. 8, 2020 — pre-vaccination times.
"Minnesota is now the fastest growing COVID hot spot in the country based on the number of cases that we have per 100,000 people," Minnesota Department of Health Commissioner Jan Malcolm said.
The New York Times ranked Minnesota as the No. 1 fastest growing case surge in nation right now, with an 84 percent increase in cases over the last 14 days.
Daily reported cases in Minnesota have been steadily rising since the beginning of August following the spread of the more contagious delta variant.
The New York Times shows the fastest growing number of cases outside of the metro area, although the Centers for Disease Control and Prevention (CDC) has all of Minnesota under a high level of community spread as of Wednesday.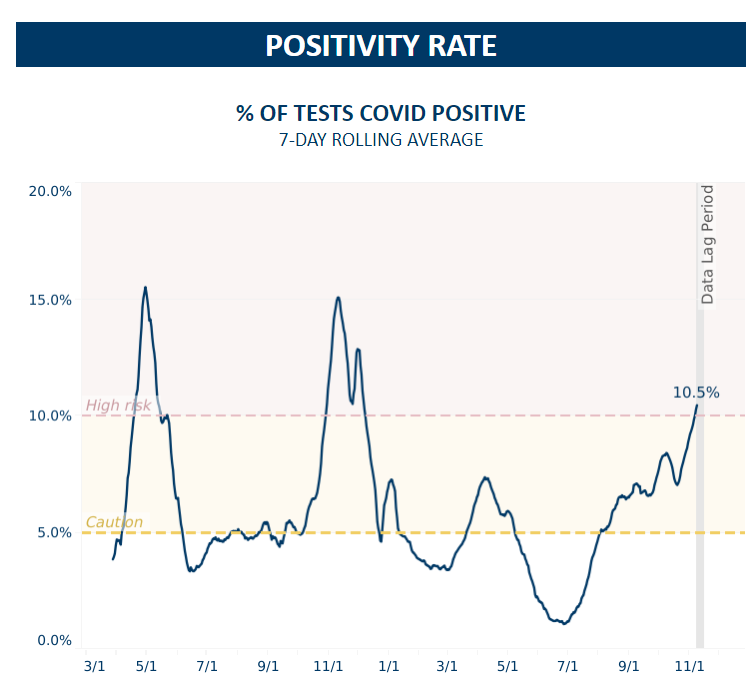 The highest COVID-19 case surges are in Dodge, Stevens, Wadena and Goodhue counties.
Dakota County is reporting an average number of 312 new infections of the virus a day, according to the New York Times data, putting unvaccinated people in "extremely high risk" of contracting the virus.
The state also reached over 9,000 cumulative deaths since the beginning of the pandemic on Tuesday, bringing the death toll to 9,093 as Nov. 17.
The rise in deaths across Minnesota has brought the state to a seven-day average of 24 deaths a day, according to the New York Times data.
COVID-19 hospitalization in Minnesota have also been hurdling upwards for the past two weeks, reaching heights not seen since pre-vaccine times.
Commissioner Malcolm said Tuesday that hospital capacity has gotten event tighter in the last week.
"Currently, Minnesota has 1,348 COVID patients hospitalized including 307 in the ICU," Malcolm said. "These are numbers that we haven't seen since late December of last year."
Number of hospitalizations and intensive care patients from the virus haven't been this high since Dec. 11, 2020, when there were 1,406 people – including 340 in intensive care – hospitalized with the coronavirus.
A number of upper Midwest states are reporting high surges of COVID-19 cases as Wisconsin, Michigan and North Dakota also reporting spikes in daily reported cases, according to the CDC.