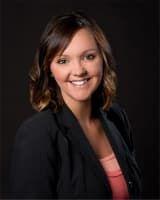 Kristy Barse has worked for the Hastings Chamber of Commerce for six years and said she enjoys being able to help out local businesses.
Read about Barse's career with the chamber and how she helped businesses during the pandemic over the previous year.
This conversation was edited for content and clarity.
Can you tell me a bit about your role as president of the Chamber of Commerce and what you do for the city?
So, for those who don't know what our chamber of commerce is, we are a nonprofit and our members are local businesses.
We work to promote local businesses and then also work closely with the city on economic initiatives. Then we also run the tourism bureau for the city of Hastings.
My role as president is really overseeing all administration and I work directly with the board of directors to put together strategic plans for the organization.
And because we have a small staff size, I have my hands in multiple areas as far as dealing with memberships, organizing events like Rivertown Days and partnering with the Downtown Business Association on car shows.
How long have you been with the Chamber of Commerce?
About six years.
How did you get involved with the chamber?
I worked at the Apply Valley Chamber of Commerce and fell in love with the job and what the chamber does for the community.
So, when I heard of the opportunity to work for the Hastings chamber, my husband and I drove down to Hastings and fell in love with the community immediately. I thought I'd throw my name in the ring and it ended up working out.
Right after I got the job, we moved to the community and have loved it ever since.
What's your favorite part about working for the chamber?
My favorite part is just being able to give back to the community in different ways.
This past year showed how important the Chamber of Commerce is to the community.
When so much was going on through COVID-19 and there was so much information being thrown out there, businesses were having to pivot on a daily basis.
My favorite part is just being able to give back in moments like that when businesses needed the most help and we really saw that here this part year and a half.
Just being able to get timely information out, to work directly with elected officials, and to partner with the city on creative ideas to make sure the businesses can stay open.