Cannon Falls resident Jim Caturia, 46, is the winner of the Minnesota Department of Natural Resources' waterfowl stamp contest for the second time. He also won the contest back in 2018 for the 2019 waterfowl stamp.
Caturia won this time around with a painting of a blue-winged teal duck. He said he and his family hunted and fished when he was growing up, which he continues to do, so it was only natural that as his talents grew most of his art was based on wildlife.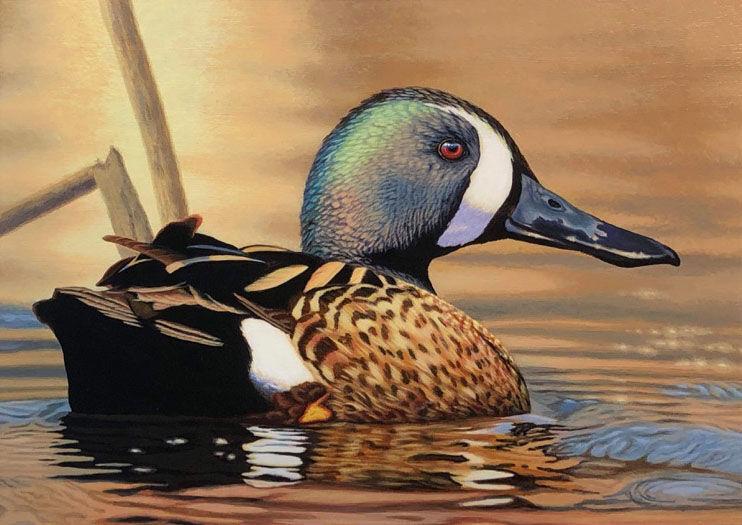 Caturia lives outside of Cannon Falls not far from Gopher Hills Golf Course south of Miesville and is originally from Hastings. He is related to the Caturias who founded Caturia Funeral Home.
Caturia said he has drawn since he was a kid and got into painting when prompted by his art teacher in high school. That same art teacher also encouraged him to enter the junior duck stamp contest during his senior year of high school and he has entered state and federal stamp contests on and off ever since. 
He said there are some really talented artists in Minnesota who enter the stamp contests – there is the trout and salmon stamp, walleye stamp, waterfowl stamp and wild turkey stamp – though the amount of submissions has steadily dropped over time.
"The guys in the state, who are really good, you never know who's going to be in there so there's a little bit of luck involved," Caturia said. "There's some good artists this year too, which is good to see."
Drawing and painting is primarily a hobby for Caturia, though he has sold a few pieces here and there. He says that work, his hobbies and his teenage children keep him plenty busy.
When inspiration does strike, Caturia said it can be tough to put down the drawing utensil or paint brush. He said recently he had trouble sleeping one night so he started working on his submission for next year's contests. 
While he enjoys both painting and drawing, Caturia said he does have a favorite between the two.
"Painting, I do like the end result, with the color and everything," he said. "I like that result better, but I do enjoy both."
The wildlife stamps can be purchased individually or along with a hunting or fishing license. The proceeds help conservation in the state. The contests are open to all Minnesota residents who fill out the accompanying application. 
Taking second in the waterfowl stamp contest was Stephen Hamrick of Lakeville and third was Ron Engebretson of Owatonna.