While scrolling through real estate listings and writing weekly articles about homes for sale, I sometimes come upon properties that appeal to me for various reasons. It could be the location, amenities, structure or numerous other factors. Below are four homes that are either for sale or were recently on the market in western Wisconsin that made me pause and take a closer look. 
Stockholm 
Bedrooms: four
Bathrooms: one
Square feet: 1,932
Year built: 1925
Acreage: 5.47
Asking price: $320,000
This home is a perfect cottage surrounded by beautiful gardens and landscaping. The listing stated that the property comes with seasonal views of Lake Pepin, apple trees, raspberry bushes, wildlife and quiet year-round as this little oasis is on a dead-end road. The property also includes about three acres of pasture—which would be perfect for horses or livestock—and a vine-covered pergola that is ideal for outdoor meals and morning coffee.  
Inside the home has a lovely sunroom that includes two walls of windows, a skylight and a wood stove. The rest of the home is clean and charming. During cold Wisconsin winters, residents of this hidden gem will be warm and cozy in this little paradise. 
Pepin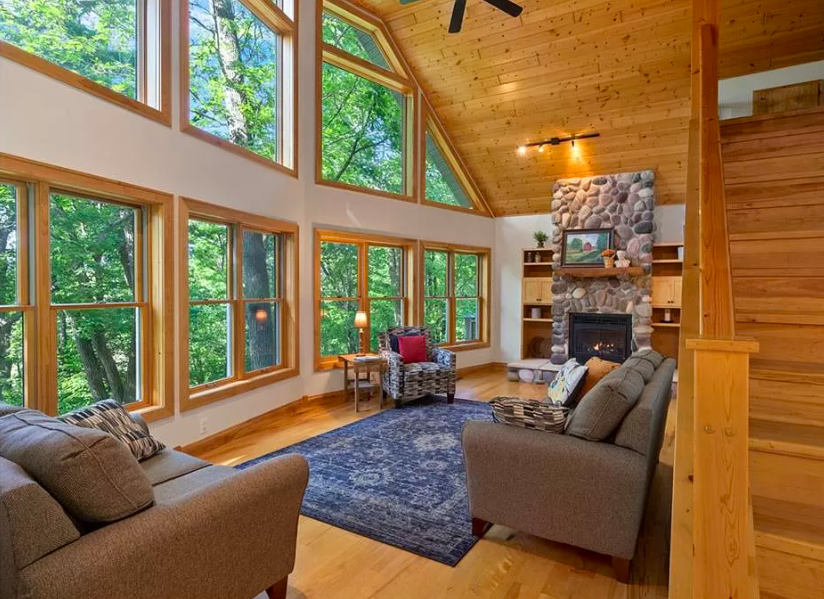 Bedrooms: five
Bathrooms: three
Square feet: 2,758
Year built: 2007
Acreage: 5.23
Asking price: $450,000 
I was drawn to this house because of its amazing stone fireplace, the numerous large windows and the lovely scenery that can be seen from the windows. The house is a custom build and it sits on 5.23 acres. The living room has a two story vaulted ceiling and a full wall of windows. Lake Pepin can be seen from the living room when the trees are bare. 
The acres surrounding this house are filled with mature trees, a creek with a small waterfall, lush green yards and well kept gardens. One of the property's surprises is a small guest house/home office that is nestled among the trees. 
Bluff Road, Stockholm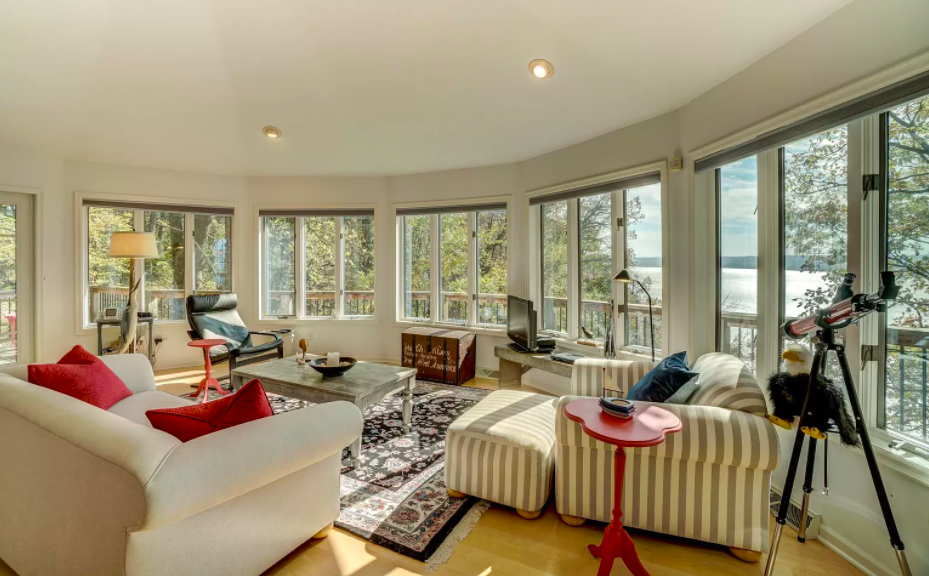 Bedrooms: three
Bathrooms: four
Square feet: 2,611
Year built: 1990
Acreage: 5.20
Asking price: $625,000 
It would be very difficult to fine a house that offers better views of Lake Pepin than this home. Set high on the limestone bluffs of the Driftless Region, the nearly 180 degree views of the lake from the living room are breathtaking. The main living space is open concept so those in the dining area and kitchen can enjoy the view. The lake is also on full display in the owner's suite (including the soaking tub that sits in the corner of the bedroom). Outside there is a large, shaded deck and access to walking trails. 
This house is a part of the Pepin Pava private community, so owners and guests have access to the association's swimming pool.