The 2020 Hastings Raiders football team was young and inexperienced after losing several starters to graduation. In last fall's pandemic-shortened and delayed season, the Raiders went 2-5 overall, 1-5 in the regular season. The Raider's finished 2020 with a win over Bloomington Kennedy in the section quarterfinals when the season was shut down due to the COVID-19 surge. But the script has flipped for Hastings as they are in the opposite circumstance to start 2021.
"The biggest thing is last year we didn't have a lot of returning starters, so we were playing a lot of guys who were first-time varsity guys," said Hastings head coach Dana Strain. "On each side of the ball we might have had two or three returning starters, so we were forced to play a lot of younger guys. The benefit of that is that this year, we bring back quite a few guys who have playing experience on Friday night or are returning starters. We're probably closer to seven or eight on each side of the ball returning starters. That's always a luxury when you're a coach, it's very noticeable when you're practicing particularly in those first couple of weeks."
Strain said that a majority of those returners are at the skill positions like quarterback, running back, wide receiver, the secondary and inside linebacker, while the new faces are on the offensive and defensive lines. He added that those skill-position players will be the strength of the team this year.
"We return our starting quarterback in Axel Arnold, we've got our receiving group back in Stephen Reifenberger, Johnny Bezdicek and Rico Cooper and we've got our tailbacks in Brenden Freiermuth and Payton Burow," Strain said. "All those skill kids who are coming back look the part and we're excited about them."
Arnold split time with Jacob Sandquist last year but based on the Raiders' Blue and Gold scrimmage last week, will most likely receive the lion's share of snaps this fall. Both Burow and Freiermuth led Hastings in rushing last season and will resume their roles. Reifenberger was the Raiders' top receiver in receptions and yardage during 2020.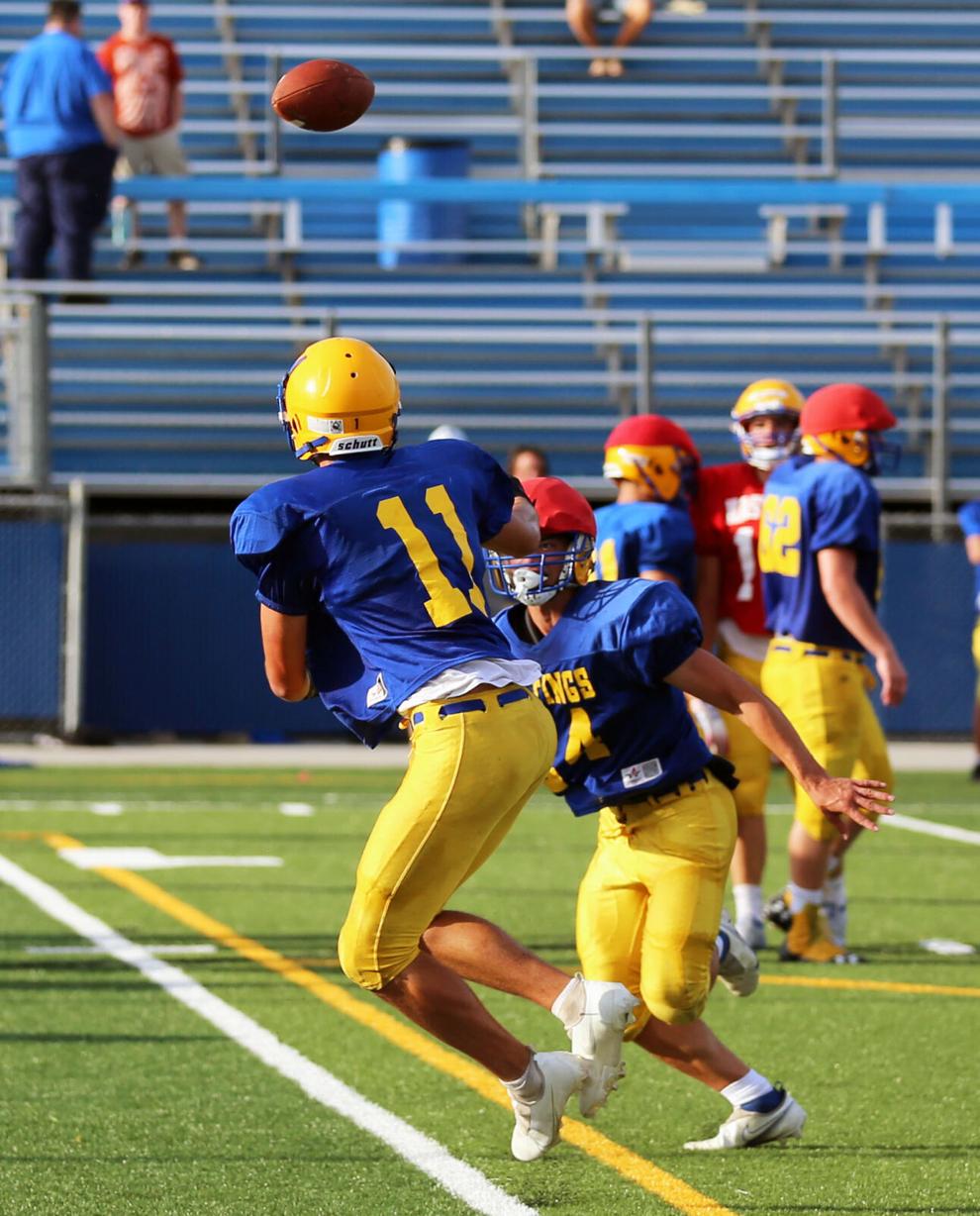 Strain has never shied away from filling holes in the kicking game by looking at the Raiders boys' soccer team and this year will be no different. With the graduation of Simon Hedin and Christian Brenny before him, Rhys Fillon will split time between the soccer and football teams and handle the Raiders' extra points, field goals and kickoffs. John Chorlton returns as punter for Hastings. 
There will be no major schematic changes for Hastings and the team's goals remain much the same as in the past. Strain said that they are to get better every day, "control the controlables", earn a first-round bye in the playoffs and strive for a section championship. 
As of right now, the only COVID protocol for athletics is to wear masks on team transportations. Strain says that they hope it remains that way, but that they are prepared if circumstances change. 
"If there's anything that we would carry over from last year, it would be the understanding and the ability to change on a dime, to change daily," he said. "We'll be prepared if they do revert back to any of the things that they did last year, we'll at least have experience with it. But right now, the hope is that we can keep it the way it is and it is so fun to be back at it without having some of those protocols in place."
Fans may have noticed how different the schedule is this fall and the lack of Friday night games. That is a direct result of the officials shortage which has been made even worse by the pandemic.
"It's officials, so what they asked us to do, every team in the state was asked to take one of their traditional Friday home games and convert it to a non-Friday because there's a shortage of officials," Strain said. "So as a result, what happened is we start on a Thursday because most teams do now with Labor Day, we end on Wednesday like we normally do with an MEA, we took one of our traditional Friday games and converted that to a Thursday and it just so happened that two of our away games happened to be one of the games that our opponent decided to convert."
The Raiders are playing some new teams this year. Among those are their final two opponents, Bloomington Jefferson and Cretin-Derham Hall, as well as Chanhassen on opening night. Strain said on one hand it's exciting to play new programs, go to new stadiums and meet new coaching staffs, but on the other it does pose a challenge for preparation. There is no film to study on the Storm this year, or results to examine. Strain said that it will be the most "uncomfortable" the Raiders will be all season from a preparation standpoint. 
Hastings plays at Chanhassen tonight (Thursday) to start the season and the home opener is next Thursday, Sept. 9, against Apple Valley. A full schedule is below:
Raiders Football Schedule
Thursday, Sept. 2: at Chanhassen, 7 p.m.
Thursday, Sept. 9: vs. Apple Valley, 7 p.m.
Friday, Sept. 17: vs. Simley, 7 p.m.
Friday, Sept. 24: at St. Thomas Academy, 7 p.m.
Friday, Oct. 1: vs. South St. Paul, 7 p.m.
Saturday, Oct. 9: at Two Rivers, 1 p.m.
Thursday, Oct. 14: at Bloomington Jefferson, 7 p.m.
Wednesday, Oct. 20: vs. Cretin-Derham Hall, 7 p.m.